WEBINAR: Digital Environmental Activism in China, Wednesday Morning Session, 27th Oct 2021, China Week 2021
About this event
It's estimated that China is home to more than 900 million internet users, roughly 65% of its population. The huge growth in China's online community has increased accessibility to vital online services, information, and connectivity, building links between Chinese people and citizens all over the world. For global issues such as climate change, technology has emerged as a crucial platform for mobilising likeminded groups to raise awareness, share resources and spur decision-makers into action.
In this session, we look at the role of civil society in China and its growing influence on shaping environmental policy and decision-making across government and the private sector. Our panel of experts will investigate the following questions:
• How has technology affected civil engagement on climate change & environmental issues?
• What are the emerging trends in public opinion about environmental practices and how does this affect interactions between communities, businesses and government?
• How do Chinese netizens perceive environmental issues and climate action in China versus the UK, the US and Europe?
• What role does big data play in shaping government decision-making?
• How do environmental NGOs intersect with communities and policy-makers in China to drive change?
Speakers:
Dr Florian Schneider, Senior Lecturer, Leiden University
Dr Florian Schneider is a Senior Lecturer in Politics of Modern China at Leiden University. He is the Managing Editor of the academic journal Asiascape: Digital Asia and is the author of China's Digital Nationalism and Visual Political Communication in Popular Chinese Television Series. His research interests include questions of governance and public administration in the PRC, Taiwan, and Hong Kong, political communication strategies and political content of popular Chinese entertainment, recent Chinese economic developments, as well as Chinese foreign policy. Florian's most recent work focused on the political contents of mainland Chinese films and popular Chinese television series, including their production process, censorship, broadcasting, and audience reception. Methodologically his work has combined critical discourse analysis, semiotics, and iconography, as well as the analysis of semi-structured qualitative interviews.
Dr Jun Liu, Associate Professor, University of Copenhagen
Dr Jun Liu is an associate professor in the Department of Communication at the University of Copenhagen, Denmark. His research covers political sociology and communication technologies and publishes in the fields of sociology, political science, communication, and computer science like New Media & Society, Journal of the Association for Information Science and Technology, and European Journal of Sociology. He has won several awards from American Political Science Association and the International Communication Association. His latest monograph is Shifting Dynamics of Contention in the Digital Age (Oxford University Press, 2020).
Ma Jun, Founder, Institute of Public & Environmental Affairs
Ma Jun ( 马军) is a Chinese environmentalist, environmental consultant and journalist. He is the current Director of the Institute of Public and Environmental Affairs (IPE). Ma started his career in journalism as an investigative journalist at the South China Morning Post (SCMP) in the early 90s and later became the Chief Representative of SCMP in Beijing. Ma is the author of 'China's Water Crisis' which became known as China's first major book on the country's environmental crisis. He currently directs the IPE which developed the China Water Pollution Map, the first public database of water pollution information in China. He also serves as an Environmental Consultant for the Sinosphere Corporation. Ma was named as one of the 100 most influential persons in the world by Time Magazine in 2006. In 2012, he received the Goldman Environmental Prize and in 2015 he became the first Chinese social entrepreneur to win the Skoll Award.
Dr. Nian Liu, Assistant Professor, School of Culture and Communication, Capital University of Economics and Business, China
Dr Nian Liu is a lecturer (assistant professor) at the School of Culture and Communication, Capital University of Economics and Business, China. Her research expertise addresses public opinion and social media in China. One of her recent projects is about emotion contagion and evolution in online public opinion on Chinese social media.
A/Professor Wenjie Yan, Beijing Normal University
Dr Wenjie Yan is an Associate Professor in the School of Journalism and Communication at Beijing Normal University (BNU), China. Her research interests are centered on the interplay between media ( "old" and "new"), individuals' psychology, and their communicative behaviors in the process broadly construed as public deliberation. She is also interested in the ways that the new digital media may help individuals to form attitudes, express opinions, and participate in public life in contemporary China. In addition to her research on China, she is currently collaborating with scholars in the U.S. to study civic and political participation, and selective media use. Prior to joining BNU, Wenjie was an Associate Professor in the College of Media and International Culture at Zhejiang University, and Assistant Professor in the Edward R. Murrow College of Communication at Washington State University. She received her Ph.D. in Communication Science from the Department of Communication Arts, University of Wisconsin-Madison. She is also an alumnus of Peking University (B.A., Communication) and China Foreign Affairs University (B.A., International Studies).
Chair: Dr. Champa Patel, Asia Pacific Programme, Chatham House
Champa has led the Asia-Pacific Programme at Chatham House since September 2017. Before joining Chatham House she was most recently the regional director/senior research advisor for South Asia and South East Asia and Pacific Offices for Amnesty International, responsible for managing the research, campaigns, media and advocacy for the region. Prior to Amnesty she worked in public health for almost a decade, focused on children at-risk, refugees, asylum seekers and internal trafficking. She is an honorary professor at the University of Nottingham, board member for the International Detention Coalition, and sits on the editorial board of Human Rights Quarterly.
Primary Event Partner: Chatham House
This online webinar will be held on Zoom. Registered attendees will be sent an access link to the webinar via email a week before the event.
To tweet about the event, use the tags @lauchinainst and @ChathamHouse on Twitter, and hashtags #ChinaWeek2021 #COP26 #lauchinainstitute #chathamhouse #kingscollegelondon.
For media and event inquiries, please contact lauchina@kcl.ac.uk.
This year's China Week forum at the Lau China Institute of King's College London is held in partnership with:
Chatham House (Asia-Pacific Programme)
Australian National University (ANU)
The China-Britain Business Council (CBBC)
The Great Britain China Centre
Society for Anglo-Chinese Understanding
Italian Institute for International Political Studies (ISPI)
China Biodiversity Conservation and Green Development Foundation (CBCGDF)
Oxford University Silk Road Society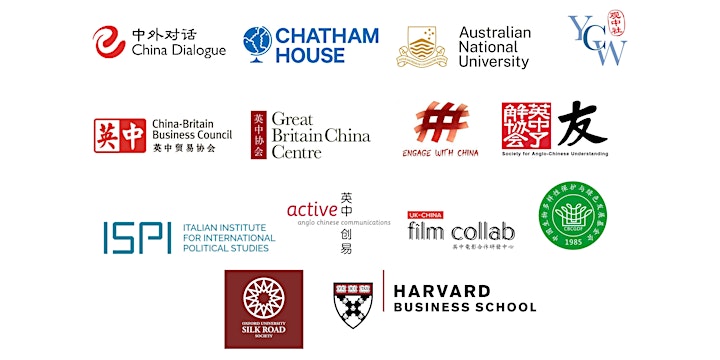 Organiser of Digital Environmental Activism in China
The Lau China Institute is a global centre for the research, study and understanding of contemporary China. We aim to study both China and work with Chinese scholars and others. As such, we seek research collaborations and deeper mutual understanding with the People's Republic of China, ensuring we sit at the heart of King's strategic approach.
Established in 2011, we now have a community of core academics and postgraduate students, including roughly 30 PhD students. We are based within the School of Global Affairs, yet work across all nine faculties and beyond, to engage in multi-disciplinary and innovative research.
The Lau China Institute is based in Bush House, North East Wing, 40 Aldwych, London, WC2B 4BG, part of King's Strand Campus.