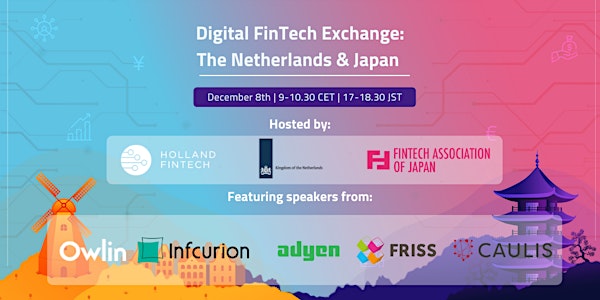 Digital FinTech Exchange: The Netherlands & Japan
A Digital Exchange FinTech Event between The Netherlands and Japan
About this event
Holland FinTech, FinTech Association of Japan, and The Embassy of the Netherlands in Japan join together on December 8th to host a digital FinTech Event.
This public event is the first jointly organized activity after Holland Fintech and FinTech Association of Japan signed a Memorandum of Understanding last February.
The goal of the event is to serve as an introduction to the FinTech startup environment in Japan & The Netherlands and offer opportunities to connect, network, and share knowledge across the world.
Featuring guest speakers:
Maarten Wessels, Director of Adyen in Japan
Takeshi Kito, Vice-chair of Fintech Association of Japan
Don Ginsel, CEO of Holland FinTech
Ariane Braam-Verkoren from FRISS
Sushi Weng and Atsuyoshi Shimazu from Caulis
Natalie Shiori Fleming from Infcurion
Sjoerd Leemhuis from Owlin
Please sign up for this FREE event via Eventbrite.
We are looking forward to seeing you there!