Årets nordiske online fundraising dagskonference. Mød dine kollegaer fra både store og små organisationer, og få inspiration til 2022 .
About this event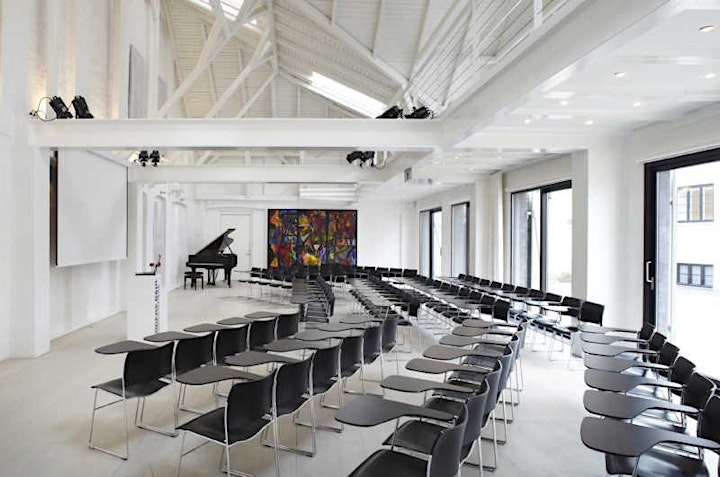 Dagens program løber fra 9:00 til 17:00 . OBS: sprog er engelsk. Temaer og oplæg i programet er:
Marketing Automation og CRM Integration (Gregor Nilsson)
Benchmarks og fundraising intelligence (Jacob Møllemose)
Optimering af konverteringer online (Eva Hieninger)
World Cafe - networking og mini-cases på OneKind og Den Danske Naturfond (Lauren Semple & Maya Schuster)
Digital Fundraising Trends 2022 (Marco Zaugg)
Analyse af driver for Google Grants success (Edlira Shehu)
Facebook Fundraising (Gavin Mcdonald & Paul Maher)
Vi mødes på Mogens Dahl Koncertsal, Snorresgade 22, 2300 København. Inklusiv i programmet er forplejning hele dagen, og afsluttes med vin, kanapeer og pianist til en god afrunding på dagen. Kom og bliv inspireret og mød dine kollegaer i branchen. Prisen dækker din forplejning og de gode lokaler. Læs hele programmet og se talerne på www.agencyscandinavia.com
OBS: Hvis du ligger inde med en god case eller en kampagne du vil dele i World Cafe, så tag kontakt til jacob@agencyscandinavia.com Eksempelvis kommer Lauren Semple fra OneKind i Scotland og deler sine erfaring om online fundraising uden budget.
Full Program
09:00 Check-In & Coffee Participants
09:45 Opening session
10:30 Marketing Automation and CRM Integration (Gregor Nilsson) There is always talk of digital fundraising as if it were a closed universe. Digitization promotes the innovative power of organizations not only on the Internet but also in classical fundraising areas. It also provides the possibility to engage with the potential donors and mobilize them with the most engaging content, at the right time through their preferred channels and devices.
We will demonstrate how classic and digital fundraising can be integrated and how the potential donor can be transformed into the donor with the right content through marketing automation at the right contact point at the right time. Using best practices, you will learn what effect this innovative approach has in practice.
11:00 Benchmarks and fundraising intelligence (Jacob Møllemose) No matter how good your fundraising is, or how well regarded your organization is, you cannot stop improving. Change is a constant in our sector, and the need for public social change is always present.
Leave the session with an appetite for best practice – and how you can share and still be anonymous and avoid sharing your most precious data. This session is on methodology and sharing of examples and methodology from different types of benchmarking projects.
11:30 Optimization (Eva Hieninger) Did you know that 95% of nonprofits around the world have some element of friction in their online giving experience that has been proven to hurt donation conversion rates? Or that Germany and the United Kingdom are 12 times more likely to offer a way to give online via bank compared to Australia or Canada. Or that 1 in 2 organizations in France and the Netherlands did not send a solicitation email to online donors in 90 days compared to 1 in 20 in the United States?
Those are just a few of the interesting things we found by becoming a mystery email subscriber and online donor to 630 organizations in 9 countries with the goal to better understand the current state of online fundraising across the globe. Join this session and get new ideas to improve and optimize your fundraising.
12:00 Lunch Break & Product Demos
13:00 World Cafe – talking, sharing, networking and going in-depth on specific topics. Confirmed cases:
Maya Schuster: Den Danske Naturfond – ren digital fundraising
Lauren Semple: OneKind – Animal Charity – digital fundraising with no budget
13:45 Break
14:00 Top Digital Fundraising Trends 2022 (Marco Zaugg) Want to learn what major trends and tech developments have an impact on your individual giving fundraising results in the near future? This session is made for you.
14:20 Google Grants Insights (Edlira Shehu) What are the best drivers for utilizing your google ads/grants? A powerful marketing tool in your fundraising portfolio, but are we using it all? Associate Professor Edlira Shehu will guide you through what research into 20 organizations' usage of Google Grants can reveal.
14:40 Facebook giving (Paul Maher & Gavin McDonald) Facebook event fundraising has come of age during Covid and saved the budget and sanity of many. Our session will give you a whistle-stop tour of this remarkable period and give you some quick tips on what we have learned and how you can run your own events.
Facebook challenges have broken the mold of virtual fundraising and are here to stay. We specialize in designing and delivering Facebook challenge campaigns and have worked on some of the most successful in the US and UK. Our session will give you a whistle-stop tour of this remarkable method and give you some quick tips on what we have learned and how you can run your own events.
15:00 Break
15:20 Speed-Dating + Barcamp Bobbles and canapés… Get-together at the bar and have fun
Speaker line-up
Maya Schuster, Fundraiser at Den Danske Naturfond
Maya has a long track record of raising funds for nature and animal charities and has worked with Den Danske Naturfond since 2017. Building the fundraising program from scratch and delivering impressive results on pure online fundraising.
Lauren Sempel, Fundraiser at OneKind
Lauren is an experienced fundraiser with 14 years of experience in the charity sector, both agency, and charity side. She works in OneKind a Scottish animal charity responsible for the whole portfolio of fundraising. She is a passionate, creative individual with excellence in client service her forte. She is also experienced in public speaking, having shared her knowledge at various fundraising conferences over the past seven years.
Edlira Shehu, Associate Professor Copenhagen Business School
Edlira's research focuses on topics of marketing analytics, digital marketing and non-profit marketing. Her research has been published in leading journals of the field, such as Journal of Marketing Research, and Research Policy. Before joining the academia, she worked in different management positions in the field of marketing analytics.
Eva Hieninger, Partner & Managing Director getunik GmbH
Eva is a partner and managing director at getunik. She consults NGOs, NPOs, and green parties about digital fundraising strategy and online campaigning. With getunik, she creates unique, innovative fundraising experiences that combine analog and digital channels. Her clients include, amongst others, World Vision, WWF, and Greenpeace. She is also a writer and speaks regularly on her area of expertise.
Paul Maher, Founder Social Mind
I am is an experienced leader with 20 years of experience in fundraising. I have worked for big charities and agencies and small startups. I have had highs and lows.
Most of my experience has been in building teams which is great because that is what a Facebook challenge event should be, one big team raising money for a charity. It hurts me when I see a group neglected. I love it when my team guides them. In a challenging year, I've raised more for organisations than I ever had and look forward to riding the social wave onward.
Jacob Møllemose, Founder and CEO at the Agency Scandinavia and ZOI
Jacob is an international speaker who has worked across many charities, from small to large – national to international. His main focus is innovation and business intelligence in fundraising. Currently, the area which inspires him and his clients is moving charities into the digital space and ensuring digital leaps in their proficiency.
Gregor Nilsson, Partner & Managing Director getunik AG
Gregor is the former Chief Digital Officer of WWF Switzerland, where he successfully introduced a marketing automation strategy. Today he works as a managing director at getunik, a digital agency based in Zurich and Berlin, and supports non-profits in their digital transformation.
Marco Zaugg, CEO of RaiseNow
Marco is an international social entrepreneur. He is the founder and investor of several Tech4Good companies. Aiming to empower changemakers across the globe he and his colleagues at RaiseNow offer superior fundraising and payment technology that helps international movements and impact-driven organizations such as UNICEF, Greenpeace, Red Cross, and many more to increase their fundraising revenues at lower costs. He lives in Switzerland together with his wife and two kids.
Gavin Mcdonald, Founder Social Mind
With 17 years of experience in the nonprofit sector, Gavin specializes in supporter journey design, fundraising product ideation, and the application of technology to meet the objectives of nonprofits. The unprecedented impact of lockdown on nonprofits drove him to explore new ways for the sector to leverage technology to reach people and raise money.
In 2020 he found new ways to unlock the potential of social fundraising driving unparalleled supporter acquisition and income growth. I became convinced that the future growth area for the sector is social fundraising and decided to set up Social Mind to unlock and harness the potential of social fundraising for nonprofits around the world.