Description
Digital Futures: Dreaming Zero-Waste: The art of fixing electronics in Europe and Africa
V&A
Learning Centre Seminar Room 3
A public workshop combining digital art, hands-on electronics repair, and a live-video exchange with a thriving electronics repair community in Kenya.
Part of the Arts and Humanities Research Council (AHRC) Connected Communities Festival 2016.
SCHEDULE:
16:30 Introduction to the event and artworks / registration for Restart Party (bring your electronics to repair)*

17:00 Live video connection with Nairobi, Kenya. Discussion around electronic waste and the lifespan of consumer technologies, and sharing of repair strategies with experts in Nairobi and London. Chaired by Dr Neil Maycroft Cultural theorist, University of Lincoln, UK. With Njeru Mugai, Alphonsol Joseph and Kinyua Nteere in Nairobi, Ugo Vallauri/The Restart Project, Dr Christopher Williams and Robert Kerr, co-founder of repair firm Lovefone in London.

18:00 Beginning of Restart Party

18:30 Refreshments & networking break

21:00 Event ends
*Restart Party info:

- At the Restart Party you will learn how to find faults, take apart and safely repair your own broken gadget with support from the Restart Project's experienced coaches. Participants will be assigned 30 minute slots with Restart coaches on a first come, first served basis.

- You can bring any small electrical and electronics to the event, such as laptops, headphones, portable radios, printers and more. Due to the limited available time, we can't perform hardware repairs on tablets and some smartphones.

- Don't forget to charge your device before the event and to bring power leads and other relevant cables.
Please do not expect us to have spare parts or replacement mobile screens. If a part is needed, we'll advise you on the way forward.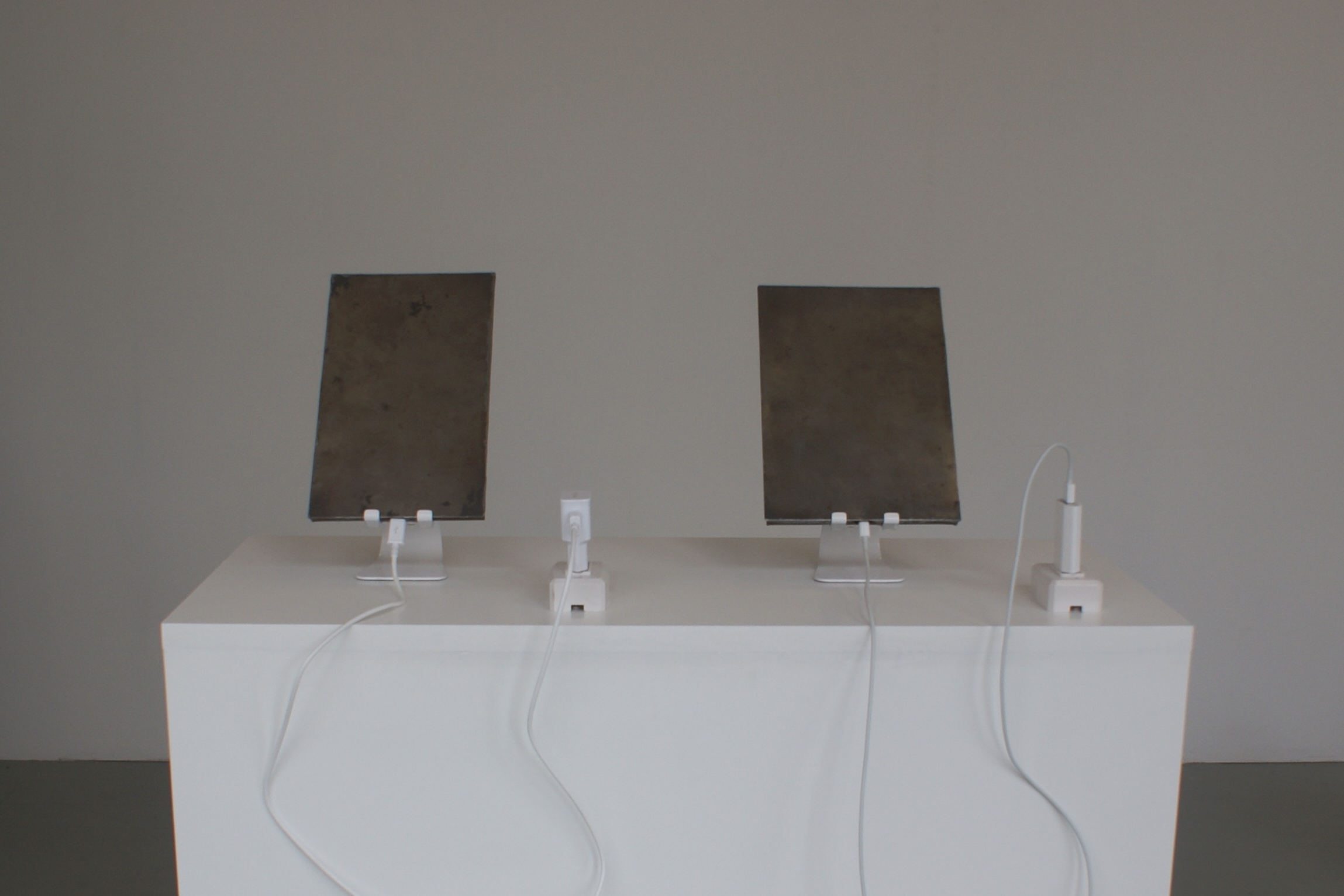 Dani Ploeger – Charging (2014-15). Two tablet computers have been made unbreakable. They have been wrapped in plate steel by traditional metal workers in Cairo. Only the charging sockets remain accessible. They will be charging for a long time.
About Dreaming Zero-Waste
Phones, tablets, and other consumer technologies are discarded at an ever-increasing pace. In 2016, 45 million metric tons of e-waste will be generated worldwide, and in the coming years this amount is expected to grow at a rate of 5-10% per year, making it one of the fastest growing global waste streams. This troubling development is spurred on by rapid product obsolescence, the increasing difficulty in replacing broken parts, and a general lack of familiarity with repair possibilities.

'Dreaming Zero-Waste' is a half-day workshop event encouraging participants to rethink their everyday interactions with technology and electronic waste, and to start fixing their own electronic devices instead of throwing them away. Free and open to the public, the event offers a presentation of digital artworks created around the theme of technology, longevity and waste, and there will be an opportunity to interact via video live-stream with an active e-waste repair community in Nairobi, Kenya. These elements will be the setting for a repair workshop where visitors will get hands-on guidance in basic electronics repair skills provided by London-based social enterprise The Restart Project.

As part of the event, artist Dani Ploeger will be traveling to Nairobi to meet local repairers. By facilitating a dialogue with this community, the event seeks to propose the inventive approaches to electronics repair that are widespread in Kenya as an inspiring example to counter the technology throw-away culture that is prevalent in the UK and other European countries.
'Dreaming Zero Waste' is organized by Dani Ploeger and The Royal Central School of Speech and Drama, in collaboration with the Victoria and Albert Museum Digital Futures programme, with the participation of The Restart Project. The event was awarded a grant from the Arts and Humanities Research Council (AHRC) and forms part of the AHRC Connected Communities Festival programme.
'Dreaming Zero Waste' builds on the activities of the research networking project 'Bodies of Planned Obsolescence: Digital performance and the global politics of electronic waste' (AHRC grant ref: AH/L01582X/1; https://www.e-waste-performance.net).
Dani Ploeger is an artist working with computer programming, electronics hacking, cultural theory and performance. His work investigates and subverts the spectacles of sex, violence and waste in techno-consumer culture. He has made a smartphone app that is available from an adult app store, and undergone an operation in which electronic waste was installed in his abdomen by a body piercer, among others. Dani is a Research Fellow at The Royal Central School of Speech and Drama, University of London. He is also Principal Investigator of the art-science research project 'Bodies of Planned Obsolescence: Digital performance and the global politics of electronic waste'.
The Royal Central School of Speech and Drama is a higher education conservatoire – a specialist college nurturing creative collaboration. Courses include acting, applied theatre, movement, musical theatre, drama & movement therapy, theatre & live performance, puppetry, scenography, actor & teacher training, voice, technical arts & production, and writing for stage & broadcast media. With over 60 academic staff, together with visiting artists and lecturers, Central has the largest grouping of drama/theatre/performance specialists in the UK, an active research culture and is a hub for the theatre and performance industries.
The Restart Project is a London-based social enterprise which encourages and empowers people to use their electronics longer in order to reduce waste. It helps people learn to repair their own electronics in community repair events , called 'Restart Parties', for local communities and workplaces in London and replicated across the UK and in 8 other countries (https://therestartproject.org/).
The Arts and Humanities Research Council (AHRC) funds world-class, independent research and post-graduate training in a wide range of subjects: ancient history, modern dance, archaeology, digital content, philosophy, English literature, design, the creative and performing arts, and much more. The AHRC leads on the Connected Communities Programme to support inter-disciplinary participatory research with communities in partnership with Research Councils UK. The quality and range of research supported by AHRC and Research Councils UK partners through the Programme not only advances knowledge and understanding about community life but generates social, economic and cultural value as well as benefits for communities across the UK and beyond.
Taking inspiration from the 500th anniversary of the publication in 1516 in Latin of Thomas More's Utopia, the 2016 Connected Communities Festival has the theme of Community Futures and Utopias. From March to June 2016 the Festival is supporting activities across the UK bringing together researchers and communities to creatively explore diverse perspectives on community futures and what 'utopia' means for communities in the 21st Century.
V&A Digital Futures is a monthly meetup and open platform for displaying and discussing of work by professionals working with art, technology, design, science and beyond.  It is also a networking event, bringing together people from different backgrounds and disciplines with a view to generating future collaborations.
image caption: Tooting Restart Party, The Restart Project. Photo by Heather Agyepong