Description
Event location: Seminar Room 5, V&A Learning Centre (Level 3)
Digital Futures is an open platform for displaying and discussing work by professionals working with art, technology, design, science and beyond.  Join us for this special event exploring future and alternative food systems and presenting how design and technology is shaping the evolution and culture of our food. The session will include show and tell presentations, talks and networking.
Schedule: Showcase from 2pm to 5pm. Talks from 2.30pm to 4.30pm.
Talks by: Burton Nitta, Seetal Solanki, Shama Rahman, Paris Selinas, Felix Pottinger and Ashley Scarborough.
Participants
Burton Nitta (Michael Burton and Michiko Nitta) is a London-based interdisciplinary art and design studio collaborating with science and technology to investigate our future world and human evolution.Previous works such as Algaculture, The Algae Opera, The Republic of Salivation and The Instruments of the Afterlife are published and exhibited internationally from MoMA, New York to the V&A. New areas of research are explored through a journal called After... that invites audiences to taste the future and venture into alternative visions of the world and ourselves. Burton Nitta will be talking about their investigation of future food cultures and alternative ways to fuel the body beyond traditional diets. Through collaborations with scientists, recent works create adaptations to us and food systems for overpopulated worlds and inescapable contaminated landscapes in the post-Anthropocene. Underlying questions ask: who might we become in the future, if 'we are what we eat'?
Seetal Solanki is a London-based materials designer, researcher and writer. She is the Director and Founder of materials research design studio Ma-tt-er. Her work explores alternative methods of employing and implementing materials more responsibly across industry and education. Thus, creating a positive socio-economic impact which reveals the truth about how we live today and might live tomorrow. In 2017 she began teaching at the Royal College of Art, London leading a platform on the Interior Design at the School of Architecture, her focus is how materials can inform the identity of an interior space helping navigation and therefore providing a sense of purpose. During her time at Ma-tt-er she has had the privilege to work with the British Council, IKEA/SPACE10, The Future Laboratory, Selfridges, DAZED, Iceland Academy of the Arts, The Design Museum London, Hyundai, NIKE, World Water Day and Politecnico di Milano.
Shama Rahman is a creative scientist, artist, futurist, and inter-disciplinarian practitioner. She has an interdisciplinary PhD researching the 'Complex Neuroscientific Systems of Creative Cognition', investigating emergent neural patterns with statistical physics, experimental psychophysics and design, cognitive neurosciences, neurophilosophy, and phenomenology. She is also a professional actor and musician and founded award-winning creative production company Jugular Productions with a vision to showcase and develop rich interactions between cutting-edge science and creative performance, showing clearly that science, art, philosophy and entertainment are equally fundamental parts of culture. Shama is currently the CEO of NeuroCreate, building personalised AI Collaborators to help you feel 'in the zone' more quickly at work. Shalma will talk about Mouth CTRLer, a transdisciplinary project with Francesca Perona, Luca Allesandrini and Dr. Michelle Korda combining scientific findings about the sensing and sensory capabilities of the oral cavity with prosthetics and interactive technologies.
Paris Selinas is design researcher at Prototyping Open Innovation Models for ICT-Enabled Manufacturing in Food and Packaging – or just Open Food, exploring the role of creative cooking from non-professionals. Open Food is investigating the role of both of physical (cooking spaces, kitchen tools, ingredients, peers) and digital tools in enacting creative cooking. In addition, it is looking into how digital technologies might harvest, share and communicate cooking actions and resulting dishes in ways that are meaningful and transparent among stakeholders (lay people, food manufacturer, market).

Felix Pottinger is a multidisciplinary designer from Germany based in London, UK. His work is characterized by research, innovation and experimentation. After studying Industrial Design & Productmanagement he worked as a designer for numerous agencies and companies such as BMW, Universal Music Group, Sony Music Germany, Nils Holger Moormann and Fuji Bikes. He is also part of the design collective Diaméter, as well as a shareholder of a sustainable forestry in the Bavarian alps. He is currently studying the MA Design Products at the Royal College of Art, London.
Ashley Scarborough is a British Designer from London, who is fascinated in applying design thinking to tricky problems for product service systems to support a happy planet. In 2012, Ashley completed a BA Honours degree in Interior Design from Kingston University, UK. From there she went on to design an international portfolio of interior experiences for the branded retail sector. Always overly enthusiastic about being environmentally friendly, she decided designing for a big capitalist and consumption driven industry didn't sit well with her values. This led her to focus on designing for people live in harmony with the world, to have a positive impact and to support circular economy that is driven by love, not money.
Nuala Clooney and Kaye Winwood will be presenting Expanded Intimacy, an ongoing collection of objects in a continuing collaboration exploring food, pleasure and the self. These are objects that both mirror, and are worn by, the body. Whilst the form of these objects echoes that of the bodily it is their inherent difference to the body that create a heightened sensory experience in the user who, at once, is forced to acknowledge the binaries they engender. In acknowledging 'difference' between subject and object the user is immediately confronted by their own embodied condition, that of flesh, secretion, suppleness, touch.
Kaye Winwood is an artist and producer based in Birmingham and has 20 years experience as an Arts Professional specialising in visual art, food, moving image and performance. She uses food as an artistic material exploring the way in which texture and flavour can evoke sensory experience. She is a studio holder at Grand Union Studios, an Honorary Research Associate at the University of Birmingham, and a Peer Reviewer for the online journal FEAST. Nuala Clooney is a cross disciplinary artist working with found and edible materials to develop objects that reflect and mirror aspects of the body. Often her objects have been fashioned by her own mouth for it to be returned to the mouth – the mouth of the audience/diner. Alongside her studio practice, Nuala works in collaboration with other artists to develop and deliver research projects with exhibition, performance and immersive dining outcomes. That explore multi-sensory perception and bodily experience.
Yilan Lu is a Chinese multidisciplinary Designer and Engineer, who is pursuing a MA in Design Products at Royal College of Art in London. She started studying Automation at Zhejiang University in 2012, and then as a product designer since 2016. The shift in her practice came with the realization that the products design is the way to bring technology into human's life, and it's important to identify the challenges before hands-on making. Her specialisation is technology and design integrity to solve problems. Yilan will be sharing her work repurposing citrus juice byproducts that would otherwise be thrown away, to create new sustainable materials that could be made into degradable products.
Ponsawan (Mo) Vuthisatkul is a former interior architect from Bangkok based in London. Currently, she is studying MA Design Products at Royal College of Art, London. Here she found her passion for food and storytelling. As she believes that food is a friendly medium that is easy to access to broad audiences, she wants to use it as a tool to create the meaningful message through food design context. Ponsawan will be presenting cutlery and tableware based-work that helps people intuitively limit eating portions by using human hand dimension.
Joseph Rouse uses his work as a platform to raise awareness of environmental issues, such as manufacturing waste, toxic materials, and depletion of resources. His product and furniture background coupled with the 'designing through making' ethos allows him to explore new ways of using materials and processes to create more innovative and sustainable projects. His project, A-New-Earth, is a concept that aims to rethink the future of food production in the domestic environment by utilising a short nine day grow cycle and high nutrient content from micro greens. The project has been developed as a service in which the user is given a formulated daily dosage that acts as a natural supplement, providing the advantage of an increased nutritional value and variety which is created from the micro greens. This allows for a wider range and concentration of nutrients that can be obtained by the user. Due to the rapid and natural production of micro greens no fertilisers, pesticides or fungicides are used whilst also having a fraction of the water, energy and land usage of their mature vegetable counterparts.
Kenneth Arnold is an industrial designer and design strategist. Prior to the Design Products programme at the Royal College of Art, Kenneth gained experience delivering products and projects in the worlds of toy design and public interest design. While he enjoys the intellectual challenge of imagining innovative concepts for commercial or social impact, he starts to develop a craving for making if he goes too long without building actual things. His current interests are in using design to help transition society towards the circular economy and experimenting with speculative design to trigger conversations around important issues of our time.

Clara Bernard will share her project SIKARU, which presents a governmental trial to create a nourishing staple food which goes back to an original relationship with beer and updated with technological processes. The SIKARU production system creates a cheap product providing equal access to food whilst nurturing healthy gut immune systems, preventing disease and mediating contaminated water and food systems. This zero-waste beer society also considers the byproducts from the process to create new materials and energy, whilst aiming for national social cohesion. In the context of a near and far future of inequalities, in an increasingly contaminated and polluted world, SIKARU resurrects diets from Ancient Mesopotamia and transforms beer with technology.
Changkun Lin's work Hungerism reacts to the UN Sustainable Development Goal to achieve zero global hunger by 2030 - currently a seemingly unattainable goal with current food systems that require resources way beyond the Earth's capacity to feed 9.8 billion people in 2050. In reaction, followers of Hungerism change the question from 'how do we feed everyone equally', but instead, 'can we have a global equality of hunger'? How can we adapt our food cultures to use hunger as a tool to escape excess eating and food waste? Hungerism alters the relationship to food and uses props/devices to better experience hunger on a daily basis to ensure no-one faces death from hunger. Instead, hunger is redesigned as a non-threatening experience for all to live sustainably.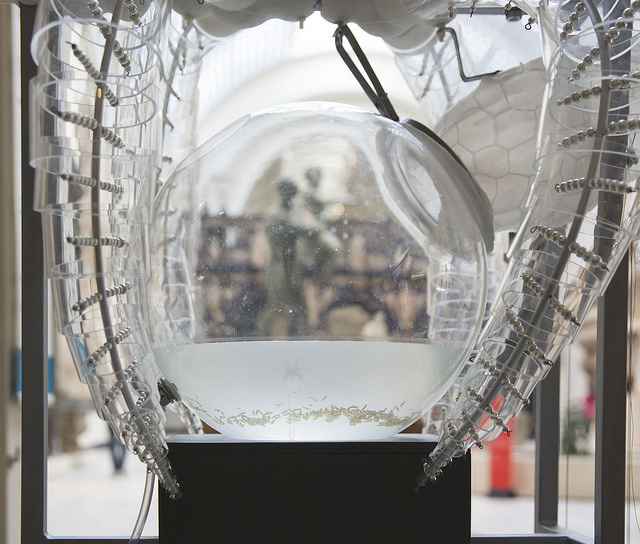 Images:
Expanded Intimacy, Nuala Clooney
Landscape Within, Burton Nitta, V&A