Sales Have Ended
Registrations are closed
This joint HSC / CHIC webinar will be broadcast live via both CHIC's YouTube Channel and Twitter account, please see links below: YouTube: https://www.youtube.com/channel/UCiMXAQjjUVNx3xRVi7MibGQ Twitter: @NI_CHIC
Sales Have Ended
Registrations are closed
This joint HSC / CHIC webinar will be broadcast live via both CHIC's YouTube Channel and Twitter account, please see links below: YouTube: https://www.youtube.com/channel/UCiMXAQjjUVNx3xRVi7MibGQ Twitter: @NI_CHIC
Digital Health Webinar Series: 'The Role of Digital Tech in Respiratory Health'
About this event
The Health and Social Care (HSC) R&D Division and the Connected Health Innovation Centre (CHIC) based at Ulster University are looking to further establish their existing partnership by arranging a series of workshops to facilitate the access to the Clinical base by NI based Life and Health Science to identify emerging unmet needs in areas of clinical and commercial interest.
In the post COVID world where there has been a marked change in attitudes to the role of technology in healthcare, and a positive acceptance in the need for increased uptake of digital innovations in a healthcare setting, this second webinar in this series will focus on 'The Role of Digital Technologies in Respiratory Health'.
Healthcare systems are anticipating a surge of societal health issues to emerge post-pandemic and with long-term effects of COVID on the population being particularly manifested in respiratory conditions, digital innovations to address these patient conditions are essential to prevent the healthcare systems being overrun with increasing workloads.
The goal of the event is to build relationships between the HSC Clinical Research Staff, Companies and Academia with a view to increasing collaborative research and technology commercialisation through the matching of clinical need with technology solutions.
The agenda will allow an opportunity for Companies to engage with key HSC and Academic stakeholders and gain insight into NI's unique capabilities, meet with key investigators and showcase their innovations and key capabilities, enabling the development of better targeted solutions to real unmet health needs.
This joint HSC / CHIC webinar will be broadcast live via both CHIC's YouTube Channel and Twitter account, please see links below:
Event Youtube Link: https://www.youtube.com/channel/UCiMXAQjjUVNx3xRVi7MibGQ
Twitter: @NI_CHIC
Agenda
Introduction/Moderator – David Branagh, Centre Director at CHIC
Clinical & Patient Insight
- View from the Clinic I: Dr Martin Kelly, Respiratory Consultant at Altnagelvin Area Hospital, Western Health and Social Care Trust (8 mins);
- View from the Clinic II: Dr Murali Shyamsundar, Clinical Senior Lecturer at QUB and Consultant in Intensive Care Medicine, Belfast Trust. (8 mins)
Industry Capabilities/Showcase Pitch Sessions
- Anaeko (5mins)
- ProAxsis (5mins)
-Voscuris (5mins)
Q&A Panel Session (10mins)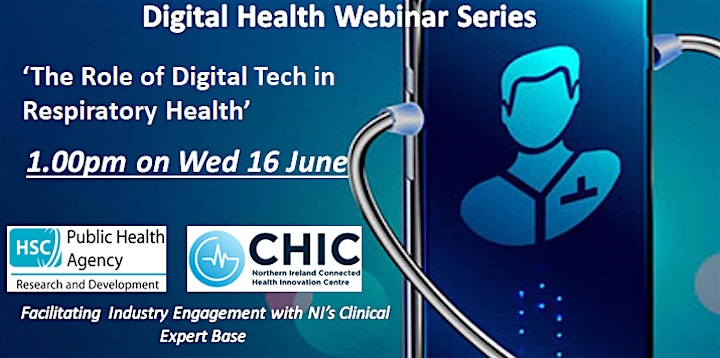 Organiser of Digital Health Engagement Webinar Series