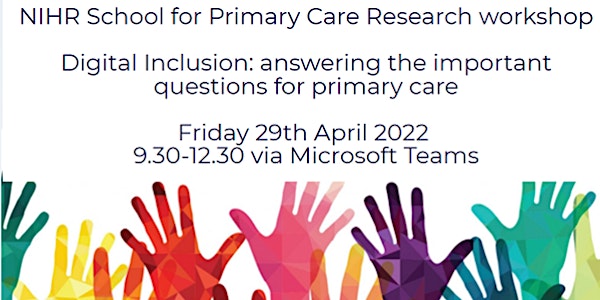 Digital Inclusion: answering the important questions for primary care
Sales Have Ended
Registrations are closed
Ticket sales have now ended.
A School for Primary Care Research Workshop
About this event
Digital Inclusion: answering the important questions for primary care
School for Primary Care Research workshop
Friday 29th April 2022, 9.30-12.30 via Microsoft Teams
Chaired by Associate Prof Helen Atherton (Warwick), Prof John Campbell (Exeter and SPCR)
Supported by John McGavin (PPI), Prof Fiona Stevenson (UCL and SPCR), Prof Miriam Santer (Southampton and SPCR)
The aim of this workshop is to share key areas in digital inclusion for development and kick start grant development. We are looking forward to generating structured ideas for future grant applications - and encouraging collaboration, whether your department is inside or outside of the SPCR . Come along with a collaborative and interactive mindset!
Key areas for discussion in breakout rooms:
• Digital inclusion and digital interventions
• Digital inclusion and vulnerable groups
• Digital inclusion and remote consultation
• Enabling digital inclusion across primary care services
• Measuring and monitoring digital inclusion using routine data
PROGRAMME
9.30-9.40: Welcome
9.40-9.55: What is Digital Inclusion in primary care?
9.55-10.10: Patient perspective on Digital Inclusion
10.10-10.15: Outline of key areas for discussion
10.15-11am: Initial pitch of research needs and ideas
Session split by area of interest for attendees.
11-11.15am: Break
11.15-12pm: Development of research ideas: How to answer the questions and who should do this?
12pm- 12.20pm: Feedback on plan from individual groups
12.20-12.30pm: Plans for follow up and close
PLEASE NOTE: The workshop is open to those both inside and outside of SPCR departments.
Organiser: Chloe Thomas
Exeter Collaboration for Academic Primary Care (APEx) Research Group, University of Exeter
Contact: c.thomas6@exeter.ac.uk