An online event for churches who want to use digital creatively and sustainably for onsite and online communities
About this event
The Digital Labs conference is an online event for churches who want to use digital communications creatively and sustainably for onsite and online communities.
In the last year, churches have radically adopted new digital skills. As restrictions lift, we have an opportunity to reflect on what we've learnt and the role digital will play in the years ahead. Some of the questions churches have been asking themselves are,
Where does digital fit into the mission of our church?
What are sustainable strategies for onsite and online worship?
As a small church, how can I use my time and money most effectively?
How can digital help us to be more inclusive?
How can we use digital to evangelise to our local community?
The Digital Labs conference will bring together Church of England experts and church leaders to help answer these questions and equip you to create a sustainable digital strategy for 2021.
At the Digital Labs conference you will:
Be inspired for the opportunity that digital gives for rural to urban churches
Learn sustainable strategies for online and onsite services and events
Discover how to support and engage online communities
Explore the resources, tools and software available for your church
Hear from church leaders sharing first-hand experiences
Through the exclusive conference platform:
Attend live keynote sessions and practical workshops
Network with attendees and ask questions directly to the speakers
Access recordings of sessions you have been unable to attend live
Discover conference resources and downloads
Visit the exhibition centre to meet trusted providers
When: 11 - 12 June 2021 (Friday evening and Saturday daytime)
Where: Online
Tickets: £10 per person
Join the conversation on social using #DigitalLabs
Recording only tickets now available
Is this for me?
Are you a member of the clergy, ordinand, reader, church leader, youth worker, social media manager, PCC member, graphic designer, video editor, livestream producer, A Church Near You editor, or perhaps someone who is just getting started?
Whatever your role, this conference is for you!
Conference accessibility
To support accessibility, each live session will include Zoom auto captions. After the conference, recordings will include closed captions and BSL translation, available from 12 days after the event.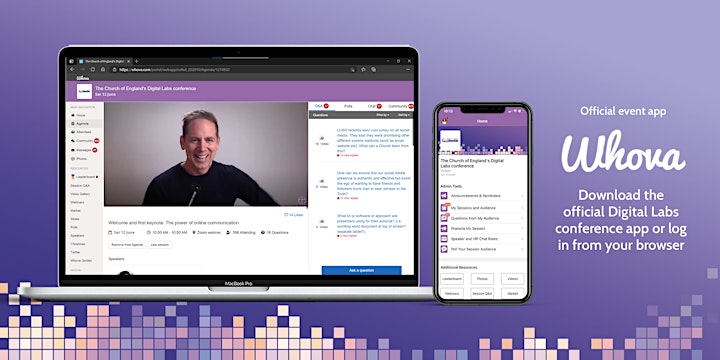 How can I participate in the conference?
To start, register for the conference
Once registered, you'll receive a confirmation email, and we'll keep you up to date with the schedule and speakers as they are announced
One week before the event, you'll receive an invite to create your online conference profile
Download the conference app or log into the conference platform through your web browser giving you full access the conference to plan your schedule and meet other attendees
On the day, log into the conference through the app or web-based browser to watch each session live, visit the exhibition stands, ask questions of the speakers and network with attendees
After the conference, you'll receive access to the keynotes and Labs sessions to catch up and watch with others.
Join the conversation on social using #DigitalLabs