Digital Leaders is a unique 6-month training programme - focused exclusively on digital marketing and leadership development.
About this Event
This 6-month course will give you the knowledge and skills to achieve accelerated growth. Sign up for this course if you are an entrepreneur, business leader or marketer looking to learn the latest digital marketing techniques, share ideas with a mastermind group and develop a world-class digital strategy that will 10X your growth.
Session #1: Marketing 101 (March 5th, 2020)
Session #2: Brand & Website (March 26th, 2020)
Session #3: Digital Advertising (April 16th, 2020)
Session #4: SEO & Content (May 12th, 2020)
Session #5: Social Media (June 11th, 2020)
Session #6: Digital Leadership (July 14th, 2020)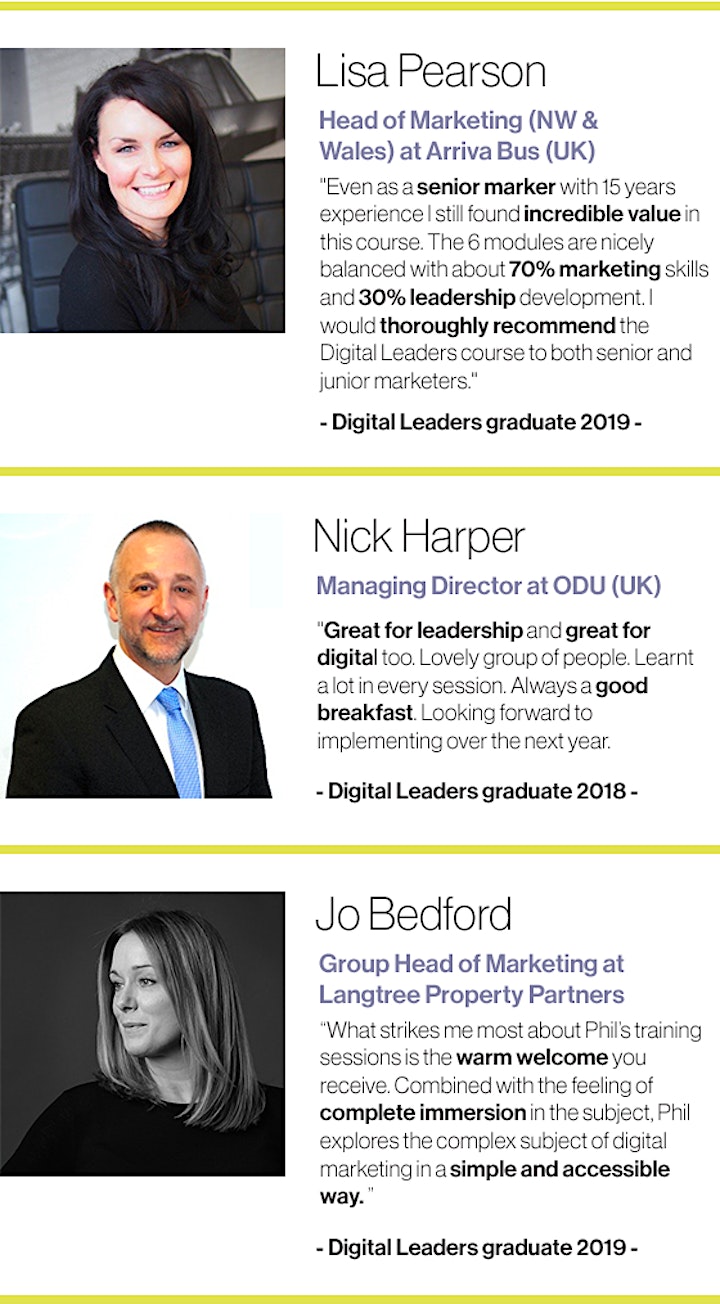 Why invest in your Digital Leaders?
Graduates of the Digital Leader programme will finish the course with the framework for creating a digital marketing strategy to take back and implement in their business or organisation.
Additional benefits of the programme include:
Improved leadership skills with practical advice and guidance on how to create more effective communication between Marketing and the board, based on measurable objectives and KPIs.
Practical skills and knowledge on how to implement a digital marketing campaign using social media, online advertising, search engine optimisation, analytics, conversion optimisation and much more.
The framework to create a comprehensive digital marketing strategy, tied in to the wider commercial objectives of your business or organisation.
Greater understanding of the digital marketing world, its terminology, its nuances and best practice on how to boost brand awareness and generate new business enquiries.
Become a member of the exclusive 'Digital Leaders Club', a peer network of digital leader graduates who will support each other through your continuing development as a 'digital leader'.
Course Leader - Phil Birss
With 15 years experience in the digital/creative sector, Phil is an accomplished marketing and brand strategist with a creative flair, a passion for digital transformation and his obsession for creating value through world-class marketing. Having operated across multiple sectors and with B2B, B2C, eCommerce, and third sector organisations, Phil leads Elephant Digital as Managing Director.
Phil delivers keynote talks and runs training seminars on the subjects of entrepreneurship and marketing. He is also a guest lecturer and mentor at the University of Liverpool, John Moores and Liverpool International College, working with MBAs, undergraduates and foundations students.
He writes on the subjects of entrepreneurship and marketing, and is publishing a book on entrepreneurship in 2020, titled 'The Supercharged Entrepreneur'.
Phil's hosts the popular Gingernut Marketing podcast and YouTube channels where he interviews the brightest minds in global business thinking, as well sharing his knowledge into building world-class organisations through the power of marketing.
Phil, on the creating Digital Leaders training course:
"The Digital Leaders course was created to help marketers and business owners take ownership of their digital journey. We understand that marketing is fundamental to the growth of many businesses, and our mission is to empower your digital champion to be the catalyst for rapid and sustained growth."