Marketing, something that we're exposed to every day, but have you thought about what's actually involved in getting it right?
About this event
We're fortunate to be joined Mark Oakman of locally based Web Adept UK who will be joining us to give an overview of digital marketing.
During this session Mark will aim to cut through the jargon of digital marketing. Mark will share with you how you can use digital marketing in business to grow awareness, interest, convert customers, retain customers and turn your customers into advocates for your business.
What will the workshop cover?
Understanding the online consumer journey
Insights on whether your digital marketing is effective or not
Insights on how to invest your time and money well in digital marketing
Websites, content, social media, SEO, PPC, e-newsletters and reviews
How to measure success
Q&A
Who is this workshop for?
Whether you have a business idea, already in business or maybe studying a business related course, come along to develop your knowledge further on digital marketing. Our workshop is designed for anyone in the community.
About the Speaker
Mark Oakman, Web Adept UK
Originally from Pembrokeshire, Mark worked for Web Adept in St Davids for 3 years after graduating from Cardiff Met University in 2007. He then left for Australia on a 6 month sabbatical which turned into 3 years before returning to Cardiff to work for WalesOnline for the last 6 years - most recently as their Commercial Head of Digital.
Mark has now come full circle, back with Web Adept but with an exciting challenge of growing the business from their new Cardiff base. Mark has a wealth of digital knowledge to share having worked with many Welsh SME's and most of Wales' best known brands such as Go Compare, Admiral, The WRU, Visit Wales, The Royal Mint, The Principality, Sport Wales, Folly Farm and Brains on their digital marketing activity.
Book your place today!
************************************************************************************
Rydym ym falch croesawi Mark Oakman o Web Adept UK a fydd yn ymuno â ni i roi trosolwg o farchnata digidol.
Yn ystod y sesiwn bydd Mark yn ceisio torri drwy jargon marchnata digidol. Bydd Mark yn eich dysgu sut i ddefnyddio marchnata digidol mewn busnes i gynyddu ymwybyddiaeth a diddordeb, argyhoeddi cwsmeriaid, cadw cwsmeriaid a throi eich cwsmeriaid yn hyrwyddwyr ar gyfer eich busnes.
Beth fydd y gweithdy yn ei gwmpasu?
Deall taith y cwsmer ar-lein
Cipolwg ar p'un a yw'ch marchnata digidol yn effeithiol ai peidio
Cipolwg ar sut i fuddsoddi'ch amser a'ch arian yn dda mewn marchnata digidol
Gwefannau, cynnwys, cyfryngau cymdeithasol, SEO, PPC, e-gylchlythyrau ac adolygiadau
Sut i fesur llwyddiant
Holi ac Ateb
Ar gyfer pwy mae'r gweithdy hwn?
Os oes gennych syniad busnes, eisoes mewn busnes neu efallai'n astudio cwrs cysylltiedig â busnes, dewch i'r gweithdy hwn i ddatblygu eich gwybodaeth am farchnata digidol. Mae ein gweithdy wedi ei lunio ar gyfer unrhyw un yn y gymuned.
Cefndir y Siaradwr
Mark Oakman, Web Adept UK
Yn wreiddiol o Sir Benfro, bu Mark yn gweithio i Web Adept yn Nhyddewi am 3 blynedd ar ôl graddio o Brifysgol Metropolitan Caerdydd yn 2007. Yna, aeth i dreulio cyfod sabothol 6 mis yn Awstralia, ond arhosodd yno am 3 blynedd cyn dychwelyd i Gaerdydd i weithio i WalesOnline am 6 blynedd - ei swydd ddiweddaraf yno oedd Pennaeth Masnachol - Digidol.
Bellach, mae Mark wedi dychwelyd i Web Adept, ond gan dderbyn yr her gyffrous o dyfu'r busnes o leoliad newydd yng Nghaerdydd. Mae gan Mark gyfoeth o wybodaeth ddigidol i'w rhannu, ac yntau wedi gweithio gyda llawer iawn o fusnesau bach a chanolig yng Nghymru yn ogystal â'r mwyafrif o frandiau mwyaf adnabyddus Cymru megis Go Compare, Admiral, URC, Croeso Cymru, y Bathdy Brenhinol, The Principality, Chwaraeon Cymru, Folly Farm a Brains ar eu gweithgarwch marchnata digidol.
Archebwch eich lle heddiw!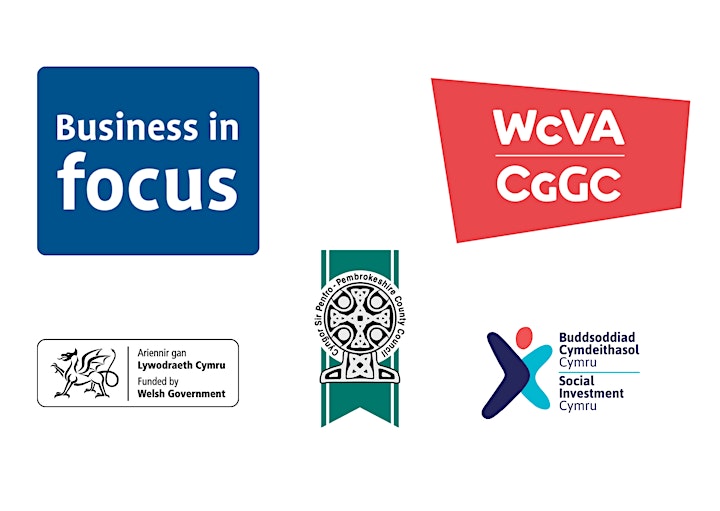 This project is funded by the Third Sector Resilience Fund for Wales Phase 2 Scheme, managed and administered by WCVA on behalf of Welsh Government.
Business in Focus deliver this service in partnership with Pembrokeshire County Council.
**************************************************************************************************
Ariennir y prosiect hwn gan Gynllun Cam 2 o Gronfa Gwydnwch y Trydydd Sector ar gyfer Cymru, a reolir ac a weinyddir gan CGGC ar ran Llywodraeth Cymru.
Mae Business in Focus yn darparu'r gwasanaeth yma mewn partneriaeth gyda Chyngor Sir Benfro.