Open Project Nights are back, but this time digital. A great networking event you get to peak behind some of the great projects happening.
About this event
Join us for the first ever digital Open Project Night! We have some exciting sessions, including a fantastic roundup discussion reflecting back on TEDx Barking and Dagenham discussions. Get involved for a fun night full of a variety of virtual tour, discussions and more!
Agenda:
6:00 pm Welcome and Introductions
Catch up with us for a welcome and introduction of the evening's events and speakers.
6:30 - 8:00pm Open Space TEDx Circles
TED Circles is an open community of small groups that engage in conversations about big ideas. Hosted by Roland Harwood, come along and co-create the agenda and suggest topics to explore reflecting on TEDx Barking and Dagenham.
Open Space sessions are events or workshops where participants create and manage their own agenda. They allow the openness for you to address specific topics or themes that you're interested in.
How they work. Each person is given the opportunity to suggest an agenda topic, you will be invited to bring forward your suggestion, facilitators of that session will then gather all suggestions and create different break out rooms or sub-rooms relating to each theme that comes up. This allows everyone the chance to speak about what they want and.
6:30 - 8:00pm Open Space Tomorrow Today Streets Meet Up
Hear and meet local residents that have begun their Tomorrow Today Streets. Co-create a topic of conversation and find out more.
6:30 - 8:00pm Open Space Collaborative Business Meet Up
Hear from past Business Programme participants about the new Independent Traders Coop and Good Food Collective.
7:00 - 7:30pm Virtual Tour of Warehouse
Take a live tour of our Warehouse, explore the space, see the machines and find out ways you get involved.
7:30 - 8:00pm Virtual Tour of Ecology Centre
Take a virtual tour of Thames' Ecology Centre with live questions and answers.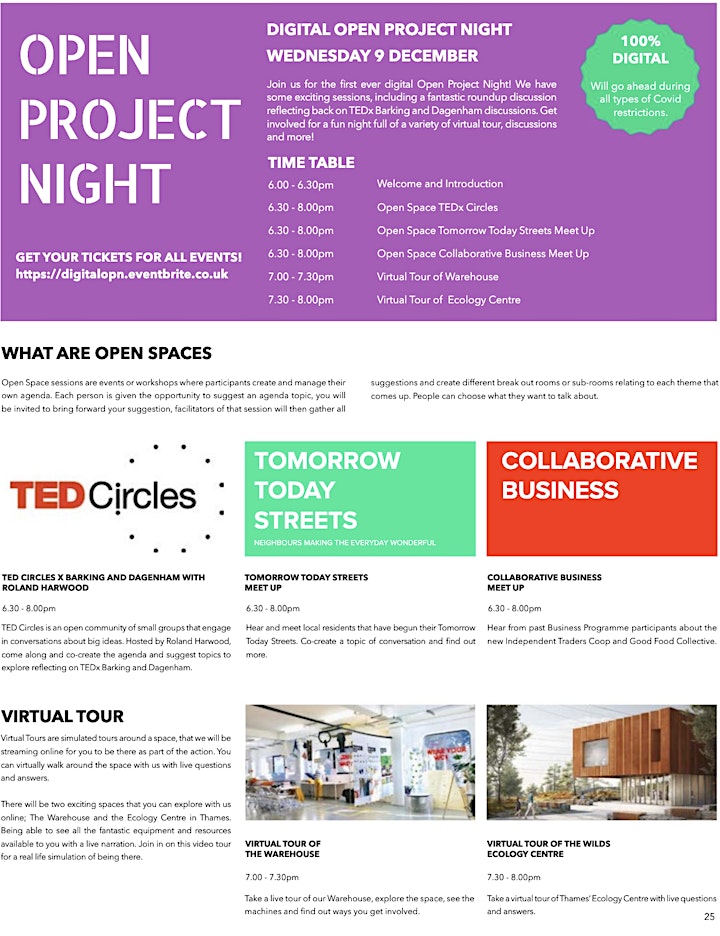 Organiser of Digital Open Project Night
Every One Every Day builds on the 'hands on' projects that people have been creating over the last few years in their own neighbourhoods. These types of projects welcome people from all walks of life.
These projects include:
• Sharing skills, spaces and resources.
• Families working and playing more together.
• Batch cooking and community meals.
• Food growing and tree planting.
• Trading, making and repairing.
Every One Every Day is going to be in the borough for a long time - at least 5 years and hopefully longer, and we hope to support residents to develop lots of projects and businesses.
---
To find out more visit: www.weareeveryone.org
Follow: @everyone_org
Please read our Privacy Notice: www.weareeveryone.org/privacy-policy