Description
Digital Pride takes charge of G-A-Y at Heaven nightclub from 12-7pm to kick start a day of pride celebrations with support from global YouTube royalty, politicians, celebrities, activitist panelists and live entertainment from the greats of London's gay scene and beyond!


PERFORMANCES FROM THE LONDON GAY BIG BAND, THE VOICE UK'S STANDOUT ACTS JORDAN GRAY AND VANGELIS AND THE X FACTOR'S DANNY CHARLES!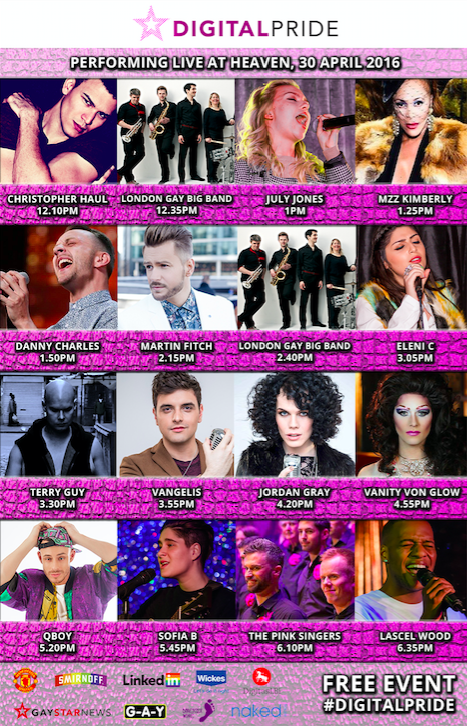 Check out the full main stage lineup HERE with guest performers including Vanity Von Glow, Eurovision 2010's Martin Fitch and Q Boy!
*TICKETS TO SEE RIHANNA'S ANTI WORLD TOUR AND A HOLIDAY TO BERLIN GAY PRIDE TO BE WON IN THE LATEROOMS.COM GIANT BALL POOL!*
PANEL DEBATES WITH INDUSTRY EXPERTS AND REAL LIFE STORIES RUNNING ALL DAY:

Against the Law
The speakers are Edwin Sesange from Uganda, Aderonke Apata from Nigeria, Pastor Jide Macaulay from Nigeria, Romario Wanliss from Jamaica and Mohamed Abdel from Egypt.

Mental Health: Breaking the stigma
Our speakers include Jane Czyzselska – the editor of DIVA and a trained therapist – and Pink Therapy's Kris Black.
We will also hear two inspirational stories. Gay Star News' head of engagement, Dan Beeson, has written about his experience of receiving counseling and how it has improved his life. Jonny Benjamin, was talked out of jumping from a bridge by a stranger – a story that was made into a TV documentary.
Dominic Davis of Pink Therapy will chair.
Women's voices: Are LBT women's voices being drowned out by gay men?
Speakers are Elly Barnes, former Pink List number one and director of Educate and Celebrate, DJ Ritu of LGBTI Asian night Club Kali, and Jenny Fallover of Lesbians Who Tech.
GSN contributor, journalist and trans campaigner, Jane Fae, will chair.
EU: Are LGBTIs better off in or out?
In the only scheduled LGBTI public debate before the UK referendum on membership of the EU, politicians will make the case for either side.

Intersex, non-binary and more: A discovery session
A discovery session: Our community does not end at LGBT, there are many other gender identities but most people know little about them.

How do we make PrEP happen?

PrEP is the new drug that can help protect you from HIV. England's NHS may now provide it after a legal challenge. Can we end HIV and AIDS?
Our experts include Will Nutland of PrEPster and Greg Owen, co-founder of I Want PrEP Now.
Chemsex stories: Plus a screening of short film G O'Clock
We will hear from G O'Clock filmmaker Mitch Marion and the film's star, EastEnders actor Leon Lopez. In a view from the scene, veteran London DJ Fat Tony and tanning salon owner Michelle Thomber-Dunwell will talk about when drugs go wrong.
Our speakers will share their experiences, guided by our chair, journalist and DJ, Stewart Who?.
For the full schedule click here.

COMMUNITY FESTIVAL EMBRACING WHAT IS TO BE LGBTI IN THE DIGITAL AGE INCLUDING WINE TASTING, THE #OUTCOME PHOTOGRAPHY PROJECT, DIGITAL EROTICA FROM LUKE THORNHILL, WICKES' LOVE SHACK VIDEO DATING BOOTH AND MORE!
-
Get involved using #DigitalPride!

Sponsors of Digital Pride include Manchester United, Fujitsu, Smirnoff, GLAAD, Late Rooms, The Cooperative, Naked Wines, Wickes, Pink Lady, Barefoot Wines, W Hotels, Spotify, Digitas, Linked In, Stoke Park and Emerald Life.

*Listings, times and live link details are subject to change and will be posted on www.digitalpride.com prior to the event(s).