Description
Digital Disruption in the Sports Industry
The Digital Sport Summit 2016 brings together leaders involved with digital within the sports industry for a day of inspiration and education. The aim of the day is to get you thinking, being creative and having fun in the process. We have a number of short talks, panels, an interactive workshop and a live recording of a podcast during the lunch break.
Our speakers will cover a number of topics, all of which look at how the sports industry is being 'disrupted' and what that could look like. From eSports to VR and livestreaming to YouTube influencers, we have heard about so many new trends over recent months. But what do they actually mean to the people on the ground making it happen at clubs, leagues, agencies and brands?
It's the ultimate low-tech hi-tech conference... what do I mean by that? The emphasis is on the speakers and what they have to say in an intimate surrounding. There's no microphones, big screens or powerpoint slides. Just an emphasis on engaged learning and fun, and don't worry there is wifi available!
DigitalSport.co and Snack Media are proud to host a great list of speakers for this event and welcome all the delegates along to Villa Park.
Format & speakers for the day below. Timings and order may vary on the day of the event...
9.00 - 9.45 - Registration & networking
9.45 - 9.55 - Introduction
Daniel McLaren, Founder @ Digital Sport, Podcaster and #DSSummit16 Host
10.00 - 10.20 - Keynote 1 - "

I've got a podcast, now what? Can little media make it big?"
Steve Gennaro; Reporter/Host @ TotalFootball889, Director @ AllInSportsTalk.com, Professor of Comms & Media Studies @ York University, Toronto
With thousands of independent sports podcasts flooding the marketplace daily and a response from networks, major media outlets, and sports franchises themselves to attempt to claw back and control this terrain, is podcasting still an entry way for all to participate in sports media (a new age public sphere if you will) or is it a dead end road and simply an empty space for free labour?
10.25 - 10.45 - Keynote 2 - "Deeper Than Engagement: What would Zlatan do?"
Marcello Fabiano, Head of Sport @ Social Chain
Views, likes, retweets, shares, comments; are all ways in which we engage online. This is measurable, this is the industry norm, but what if there's something more valuable and meaningful that determines the success of capturing an audience? Marcello will discuss how going to a deeper level by making sports fans 'feel' something is the real driving force behind engagement.
10.50 - 11.30 - Panel 1 - "Is a YouTuber football league commercially viable?"
Dan French, Co-founder @ Clifford French
Neil Smythe, Head of Sport @ Shotglass Media / The Football Republic
Michael Craddock, Co-founder @ Kairos Talent Management
Richard Johnson, SPORF
11.35 - 11.55 - Keynote 3 - "Sports in Virtual Reality: What does the future hold?"
Professor Andy Miah, Chair of Science Communication & future media @ Salford University
11.55 - 12.00 - Summary
12.00 - 13.00 - Lunch & podcast recording
13.05 - 14.20 - Interactive real-time marketing workshop with Jon Burkhart (TBC London) and Snack Media
14.20 - 14.40 - Break
14.45 - 15.35 - Panel 2 - "eSports: a threat or an opportunity for traditional sport?"
Malph Minns, Managing Director @ Strive Sponsorship
Andrew Nixon, Head of Sport @ Sheridans
Vas Roberts, VP Sales @ FACE IT
15.40 - 16.00 - Keynote 4 - "The importance of adding PACE to your thinking"
Leigh Moore, Founder @ Creative Players (formerly Digital Content Lead @ BT Sport)
This interactive session will challenge you to think differently about some of the decisions you make day-to-day. Why do you do the things you do? Are you spending too much time on content that isn't delivering real impact?
16.05 - 16.25 - Keynote 5 - "T

he Future of Broadcasting for Sports Rightsholders"
Fiona Green, Co-founder @ WINNERS
With DAZN showing there is an OTT market in Europe, and even ESPN considering the benefits a live streaming service, we're going to discuss the implications of pushing the rightsholders even further with their own d2c models. We'll take a look at the numbers and see what's at stake.
16.30 - 19.00 - Closing comments and short networking time, then move onto the Aston Tavern for post-event drinks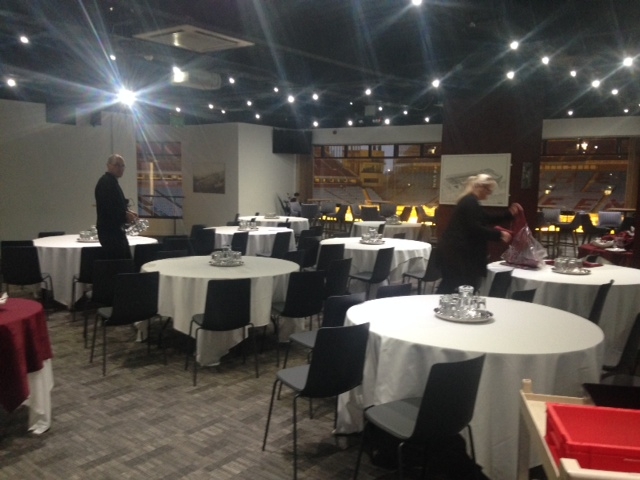 FAQs
What are my transport/parking options getting to the event?
https://www.avfc.co.uk/villa-park/visiting-the-stadium/travel-and-parking