About this Event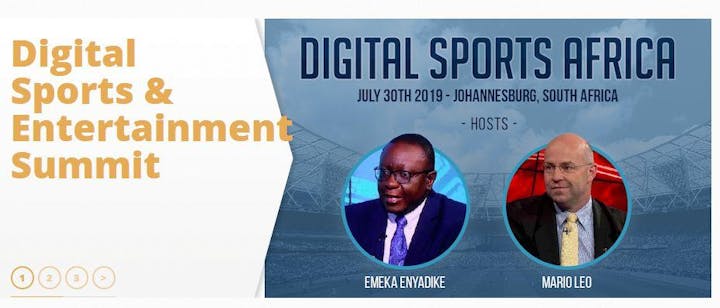 #DSAJoburg – Digital Sports & Entertainment Johannesburg
Theme: Digital Sports & Entertainment Workshop
July 30, 2019 @ 10:00am – 5pm
Venue: G1 Hub, 18 Sunset Ave, Pineslopes, Johannesburg, Gauteng, 2191, South Africa
Hosts: Join Emeka Enyadike and Mario Leo (the founder, CEO of Result Sports,) and a host of Industry Leaders for a fun gathering of the top minds of the digital community.
Enquiries: network@digitalsportsafrica.com
or Contact: Josi Mudau +27 83 881 6127
josi@sportsafricanet.com
About US
Digital Sports Africa is a global platform that examines the African digital landscape and the impacts of technology disruptions to create leverage for African emancipation and advancement.
Digital Sports Africa is a dedicated platform to the evolution of Digital in Sports and entertainment in Africa. We share data, great case studies, interesting events and ensure the digital sports in Africa will unlock its tremendous potential! FROM AFRICA FOR AFRICA
Digital Sports Africa (DSA)engages with it's community via the DSA digital platforms, web, social media, email, podcasts, a new quarterly magazine, a membership program that we will launch and of course, the Digital Sports Africa events.
#DSAJoburg #DigitalSportsAfrica #RESULTSports