Digital tactics to drive behaviour change
About this event
It is unlikely that 2020 will go down as a 'good' year in the record books, but it was an interesting year in digital. In the past year, there has been a 13% growth in new social media users, taking a total of 4.2 billion users worldwide. While in the UK, digital users between the age of 16 to 64 are now spending an average time of 6h 30 min on the internet since 2020. As a public sector communication and media professionals, this is an opportunity to stay connected and develop effective digital and social media campaigns.
This morning masterclass has been designed to help public sector communicators plan and implement the right digital marketing tactics to drive awareness, create buy-in, action and advocacy at the right stage of engagement in the campaign.
The course will equip you with the knowledge on how to plan your digital campaigns and social media activity and most importantly, how to report your results using the right measures at each stage of the digital marketing behaviour change funnel.
After completing the course, you will be able to:
1. Understand and apply a behaviour change model for all your campaigns.
2. Understand the digital and social media tactics that best help drive your audiences from awareness to buy-in to action and advocacy.
3. Plan your campaigns and media activity using the right digital and social media marketing tactics at each stage of your campaigns.
4. Understand and apply what measures matter for each digital tactic.
5. Test and practice your understanding so you can apply this at your desk the same day.
This course will be led by Tiffany St James, Westco's digital and social media strategist and Associate Director of Digital. She has trained over 10,000 people in digital skills in the last 5 years and has run her own consultancies for 18 years, awarding her Most Influential Woman in Digital Strategy Consulting 2020.
You will receive a calendar invite from tiffany@wetransmute.com' within 24 hours of your order.
Your digital access link will be emailed from tiffany@wetransmute.com 24 hours before the course and added to the event page.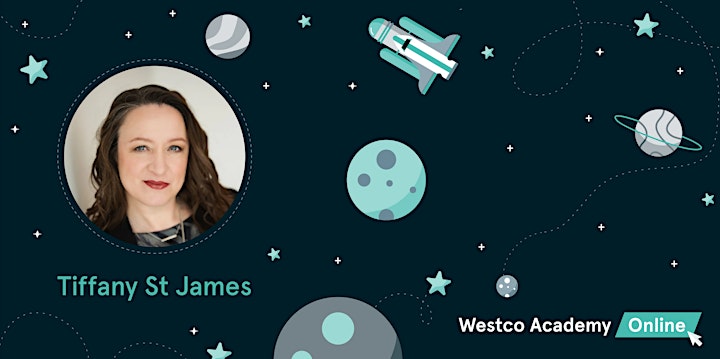 About Westco
Simply put we're an agency that helps clients to change people's lives for the better through strategic communications.
Westco Communications was launched by Westminster City Council in 2003 in response to demand from local authorities and other public sector organisations for evidence-based and cost-effective best-in-class communications services. Since then, we have put informed, strategic communication advice at the heart of decision-making across the public sector.
We've got the public sector's best practitioners providing organisations with director level advice and guidance, excellent campaign strategists, heads of communications that transform client teams, leaders in crisis communications, advertising creatives and copywriters, award-winning social researchers, reputation managers and government relations specialists, all under one roof.
Our Westco Academy is designed to give teams and individuals the best set of tools and insights to deliver the most effective communications and reputation management.
We will be offering training courses in Webinar forms as well as a number of online courses focused primarily on enhancing your digital skills, developed by our agency's Digital Strategy partners.
Visit our website: www.westcocommunications.com