Digital tech – transforming how healthcare is delivered to citizens
Description
Advances in artificial intelligence, virtual reality, sensors, wearables and other innovative technologies, are redefining the way healthcare is being delivered; reducing hospital admissions and the need for in hospital care and providing connected, remote & personalised services which empower citizens, deliver better health outcomes and reduce costs.
This event brings together healthcare, digital & creative businesses to focus on the opportunities and benefits that digital solutions can bring to achieve more user centric, efficient models of care and improve health and wealth in this technology driven age.
At this event attendees will hear from a diverse range of leading healthcare innovators and experts on how digital technology is being used globally to improve wellness, prevent, diagnose & treat disease and enable patients to manage conditions.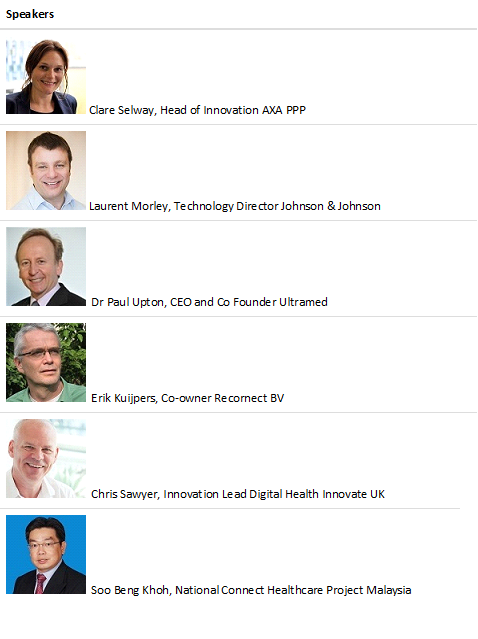 Agenda
8:00 - 9:00am Partnering breakfast meetings (Pre-arranged meetings only)
9:30am
Louise Hooker Enterprise Europe Network – Healthcare Sector Lead
Welcome
Clare Selway, Head of Innovation AXA PPP
Reactive to Proactive - The new role of the insurer
Laurent Morley, Technology Director Value Creation EMEA, Johnson & Johnson
How can healthcare technology create value in the medical device space
Q & A
Company pitches
10:55 Refreshment Break
Cathy Francis, NHS England, Regional Director of Patients and Information
From good idea to business as usual
Liz Ashall-Payne, CEO, ORCHA
Health Apps – The good the bad and the ugly
Dr Paul Upton, CEO and co-founder Ultramed
Reflections – NHS insider to outsider
Q & A
Company pitch
Recornect – Food for thought!
1:00 - 1:45pm LUNCH – Showcase and networking
Erik Kuijpers, Co Owner & Alwin Verdonk service user, Recornect BV
New possibilities - Closing the gap from hospital to home treatment
Chris Sawyer, Lead Technologist – Digital Health, Innovate UK
What is the Digital Health Technology Catalyst Fund and is it right for me?
Dr Khoh Soo Beng, Vice President, CREST Malaysia
Spearheading Next Wave of Healthcare Innovation with Internet of Things (IoT) and Collaboration
Q & A
Company pitches
Closing remarks
Partnering 3:30-6:00pm Pre-arranged partnering meetings
Specialists from the Innovate UK family will be on hand to provide information on funding, commercialisation and accessing international markets.
Delegates can apply to pitch, showcase their solutions and arrange 1-2-1 meetings with the speakers and other guests to share experiences, initiate new business and find partners for collaboration and cross border co-operation.
Join this event to hear about cutting edge healthcare technologies which are shaping the future of healthcare, global market and funding opportunities and meet like-minded, creative collaborators.


Organiser

Event Sponsors

Partners

Organiser of Digital tech – transforming how healthcare is delivered to citizens