An introduction to digital technologies in facial prosthetics. We'll cover the history, current best practice and consider future of tech.
About this event
This online event will introduce the field of digital technologies in facial prosthetics. We'll cover:
Introduction to the field & why technology is applied
Digital technologies – timeline of development
Current techniques
3D scanning
Computer Aided Design (CAD)
Rapid prototyping/additive manufacture/3D printing
Materials
Colour
Immediate reconstruction
Current challenges and research opportunities
Discussion forum
The event will be presented by Prof. Dominic Eggbeer from PDR, Cardiff Metropolitan University and Peter Evans from Morriston Hospital, Swansea.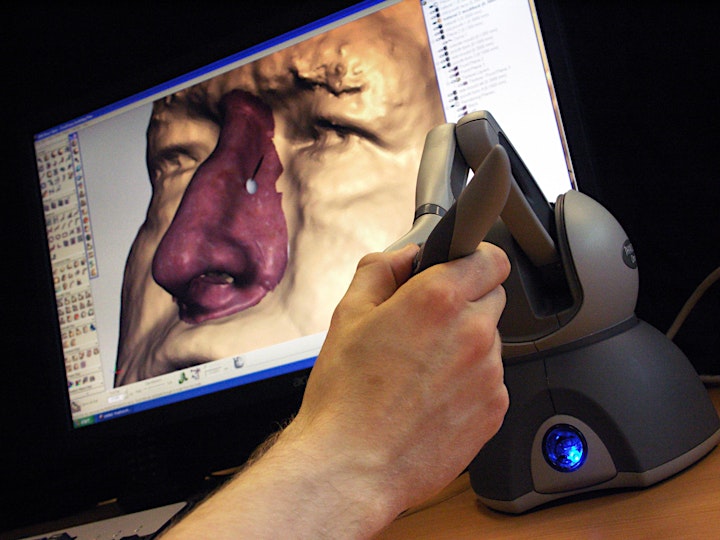 Organiser of Digital technology in facial prosthetics
CARTIS has led innovations in healthcare since 1998. We are a collaboration between design engineering specialists at PDR, Cardiff Metropolitan University, Reconstructive Scientists at Morriston Hospital and other medical specialists within NHS Wales and beyond.

We lead research and development projects in 3D design engineering technologies. Our work is applied in surgery, prosthetic reconstruction, dental technology and related fields. We publish extensively, collaborate globally, and support a much wider uptake of innovative methods in clinical practice. This has led to improved patient care and healthcare economic benefits.

Our webinars and online courses form part of a series exploring the use of 3D design engineering technologies applied to custom medical device design. This is an exciting and rapidly evolving field that encompasses the skills of different disciplines in healthcare, design and engineering. They are intended for people already working in the field of custom medical device design or those who are training to work in this field.