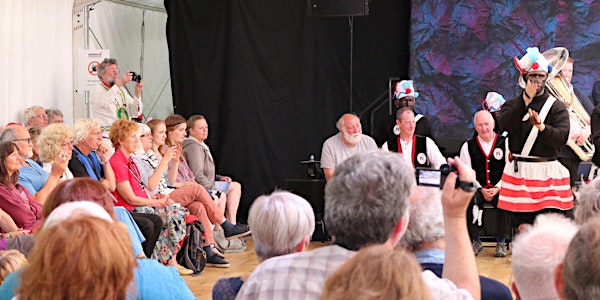 DigitalFolk Symposium: Participatory Arts In the Digital Age
Location
Boardroom
Faculty of Engineering, University of Sheffield, Sir Frederick Mappin Building
Mappin Street
Sheffield
S1 3JD
United Kingdom
Description
The first in a series of research events from Digital Folk - a two year research project that examines the ways in which folk arts participants use digital resources.
Marking the mid-way point of this AHRC-funded project, this symposium will explore how digital media and technologies have affected the ways in which people experience and engage with participatory arts. The symposium is designed to complement ongoing investigations of the folk arts - the central focus of the Digital Folk project - by drawing on the wider context of grass-roots participation across the artistic landscape. Delegates will be invited to question the ways in which - and the extent to which - the establishment of the digital era has transformed and/or conserved vernacular creative practices across forms such as music, dance and theatre. We will consider how and whether the involvement of digital technologies in these contexts have led to (e.g.):
the innovation of co-creative techniques;

access to/attraction of new participants;

the generation of new meanings;

other transformations, disruptions and changes;

the consolidation of pre-digital practices and communities.

Speakers will include:
David Gauntlett (University of Westminster – Media, Art and Design)

George McKay (University of East Anglia – Media Studies)

Sita Popat (University of Leeds – School of Performance and Cultural Industries)

Kerry Schaefer (University of Exeter - Drama)

Henry Stobart (Royal Holloway – Music)
Chair: Simon Keegan-Phipps (University of Sheffield)
Discussant: Nikki Dibben (University of Sheffield)
Event Organiser: Cinzia Yates (University of Sheffield)
The event is free, but places are limited, so please sign up
The project is funded by the Arts and Humanities Research Council, and hosted by the University of Sheffield in collaboration with the University of Westminster. More information can be found at www.digitalfolk.org
Contacts:
Simon Keegan-Phipps (Principal Investigator): s.keegan-phipps@sheffield.ac.uk
Cinzia Yates (Research Associate): c.yates@sheffield.ac.uk
David Gauntlett (Co-Investigator): d.gauntlett@westminster.ac.uk