Join us for the North East of Scotland Manufacturing Forum Webinar Series
About this event
Webinar Title: Digitalisation of Engineering Asset Management: Smart Remanufacturing, Maintenance and Life Cycle Cost Optimisation
This event will be presented by: Yuchun Xu from Aston University
Join us for a webinar series from the North East of Scotland Manufacturing Forum.
Webinar Title: Digitalisation of Engineering Asset Management: Smart Remanufacturing, Maintenance and Life Cycle Cost Optimisation
This event will be presented by: Yuchun Xu from Aston University
Webinar Abstract: Engineering assets typically have long service life and require proper maintenance during their service to ensure the operational performance and extended service life. However, optimising the operation and maintenance of engineering assets is challenging due to the uncertainties involved, such as the condition of engineering asset and different strategies and technical solutions available for maintaining the assets. This talk will discuss how digital technology can provide some effective tools and solutions for optimising the maintenance and remanufacturing of engineering asset through life cycle.
About the speaker:
Professor Yuchun Xu is a Chair of Manufacturing in the College of Engineering and Physical Sciences at Aston University. He's the leader of two interdisciplinary research themes Digital Engineering, and Circular Economy, and the head of Smart Systems and Manufacturing (SSM) at Aston University.
Prof Xu's research is primarily on smart manufacturing, remanufacturing, life cycle engineering, cost modelling and optimisation. He has close collaboration with industry, his industrial partners include High Value Manufacturing Catapult, Airbus, Rolls-Royce, QinetiQ and Network Rail etc. Prof Xu's research is sponsored by UK Engineering and Physical Science Research Council (EPSRC), Innovate UK, Department for Education, and EU H2020, FP7 etc. with total funding profile over £25M.
Professor Xu is the member of UK EPSRC & STFC Peer Review College and received recognition of his significant contribution in that role. He has wide collaboration with leading universities in Europe and worldwide mainly through funded research collaboration projects.
Who would this be for?
This webinar is of interest to the manufacturing, engineering and energy industry.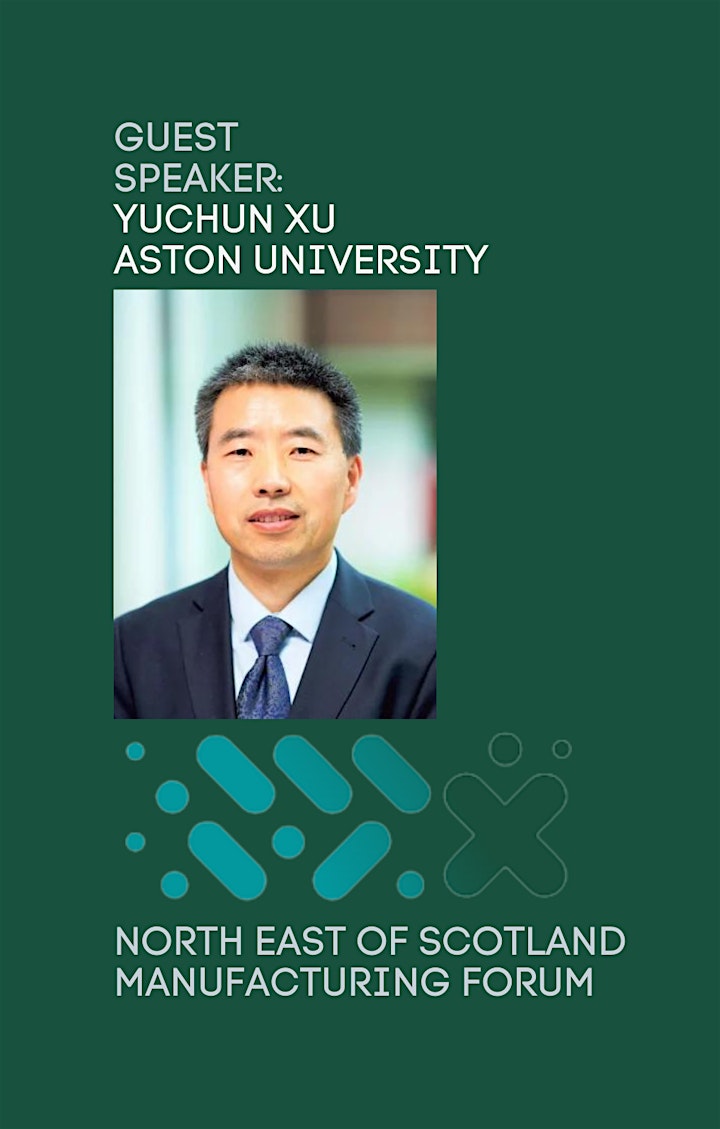 The North East of Scotland Manufacturing Forum is aimed at energy transition diversity in building sustainable net-zero economy. With the North East of Scotland is currently undergoing a major energy transition aimed at building a sustainable net-zero economy and this area being home to many micro enterprises and SMEs (small and medium-sized enterprises) employing over 115,000 people and primarily providing manufacturing capability to the oil and gas sector. These enterprises manufacture niche products for the energy sector and are exposed to turbulent energy markets and need support. The support is needed to identify and develop stable financing mechanisms. Developing resilience to withstand turbulent oil markets and implementing SAFe strategy (Survival, adaptability and feasibility) models specific to the North East and target sectors. Analysing potential markets and competitors beyond Scotland and identifying where the best opportunities will arrive and making the most of them for the industry. Developing a roadmap for sector growth and associated mechanisms.
The North East of Scotland Manufacturing Forum is hosted by the National Subsea Centre in collaboration with Robert Gordon University.