Description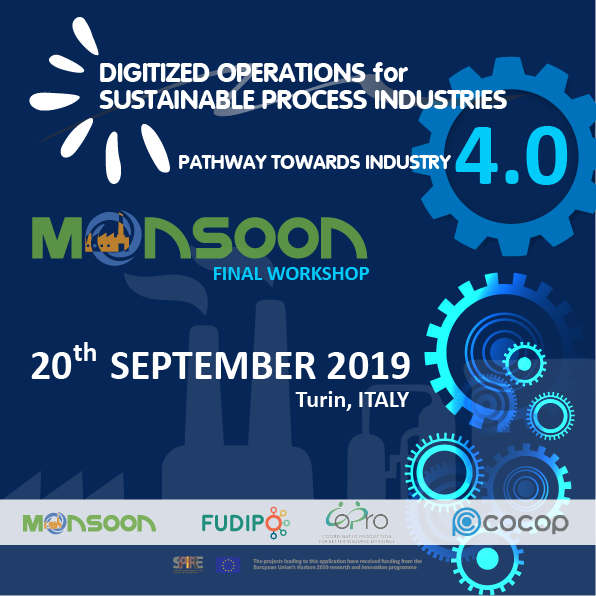 The objective of the workshop is to present the EU perspective on digitized operations in process industries and to focus on plant-wide monitoring and control of data-intensive processes i.e., the scope of SPIRE-02-2016projects i.e., MONSOON, COCOP, CoProe Fudipo.
First, the vision on digitization in sustainable process industries will be presented by Dr. Martin Winter (Cefic Innovation -SPIRE PPPAdvisory Group & Digital Technologies,A.SPIRE), introducing the SPIRE 2050 vision. Then, Maurizio Gattiglio (Prima Electro –Past Chairman and Member of Board of Directors,EFFRA) will introduce the Factory of the Future's vision on digitization and the perspective towards Horizon Europe.
The four SPIRE-02-2016 projects will later present major objectives, challenges and outcomes. A specific focus will be put on MONSOONproject that will introduce and showcase the developed framework supporting online monitoring, predictive approaches and on-line life-cycle management. While the presented solutions are being and have been validated in process industry sectors, they could be relevant also for other sectors, including the manufacturing industry. The workshop will include also a poster sessionwhere projects working on digitized operations in industry environment will present visions and results. The event will end with a panelsession aiming to discuss about chances and challenges of fully digitized operations in process industries and similarities with manufacturing scenarios.
Agenda is available HERE
Attendance at the workshop is FREE, but the number of participants is limited.
Organiser of DIGITIZED OPERATIONS for SUSTAINABLE PROCESS INDUSTRIES PATHWAY TOWARDS INDUSTRY 4.0