About this Event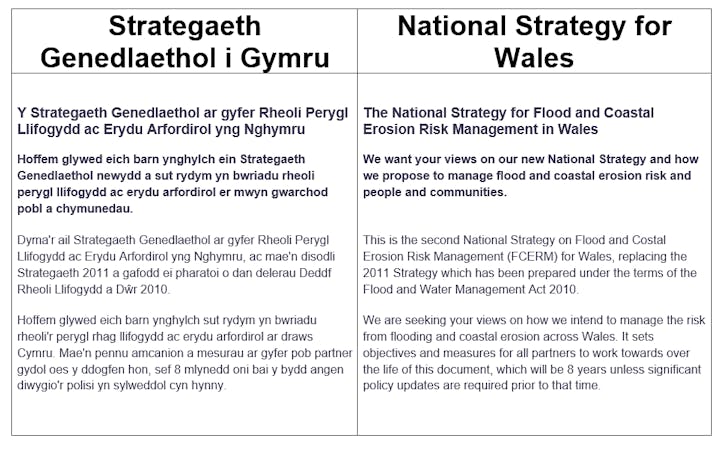 Strategaeth Genedlaethol i Gymru National Strategy for Wales
Y Strategaeth Genedlaethol ar gyfer Rheoli Perygl Llifogydd ac Erydu Arfordirol yng Nghymru
Hoffem glywed eich barn ynghylch ein Strategaeth Genedlaethol newydd a sut rydym yn bwriadu rheoli perygl llifogydd ac erydu arfordirol er mwyn gwarchod pobl a chymunedau.
Dyma'r ail Strategaeth Genedlaethol ar gyfer Rheoli Perygl Llifogydd ac Erydu Arfordirol yng Nghymru, ac mae'n disodli Strategaeth 2011 a gafodd ei pharatoi o dan delerau Deddf Rheoli Llifogydd a Dŵr 2010.
Hoffem glywed eich barn ynghylch sut rydym yn bwriadu rheoli'r perygl rhag llifogydd ac erydu arfordirol ar draws Cymru. Mae'n pennu amcanion a mesurau ar gyfer pob partner gydol oes y ddogfen hon, sef 8 mlynedd oni bai y bydd angen diwygio'r polisi yn sylweddol cyn hynny.
The National Strategy for Flood and Coastal Erosion Risk Management in Wales
We want your views on our new National Strategy and how we propose to manage flood and coastal erosion risk and people and communities.
This is the second National Strategy on Flood and Costal Erosion Risk Management (FCERM) for Wales, replacing the 2011 Strategy which has been prepared under the terms of the Flood and Water Management Act 2010.
We are seeking your views on how we intend to manage the risk from flooding and coastal erosion across Wales. It sets objectives and measures for all partners to work towards over the life of this document, which will be 8 years unless significant policy updates are required prior to that time.