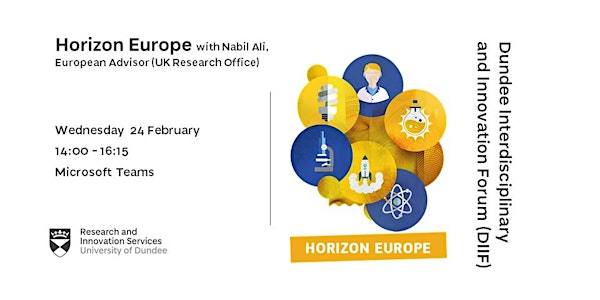 DIIF: Horizon Europe with Nabil Ali, European Advisor (UK Research Office)
Join Nabil Ali, European Advisor at UKRO to receive an overview of Horizon Europe and the latest on UK's association.
About this event
Are you interested in European funding? Want to know what's next after Horizon 2020? Then join RIS and Nabil Ali, European Advisor at UKRO at this event discussing all things Horizon Europe.
This session will provide essential information for the next EU research and innovation programme, running from 2021-2027, and an opportunity to raise questions with colleagues from UKRO.
This event is open to all University of Dundee staff and students.
About Nabil Ali, European Advisor (UK Research Office)
Nabil is a European Advisor at the UK Research Office (UKRO) in Brussels, advising UK universities and research institutions on the latest policy developments in higher education and research within the European Union. He is also the UK National Contact Point for Marie Skłodowska-Curie Actions, providing guidance for UK researchers and beneficiaries on all aspects of the Marie Skłodowska-Curie programme.
Before taking up his current role, Nabil worked for Universities UK International (UUKi) as their policy lead for European higher education, mainly focusing on lobbying for UK universities to receive the best possible outcome following EU-exit on issues such as Erasmus+, immigration, tuition fees and qualifications recognition.
Agenda
Introduction to UKRO
Horizon 2020 wrap-up
Latest on UK association to Horizon Europe & implications for UK Universities
Overview of Horizon Europe Pillars 1 & 2
Novelties in Horizon Europe
Please contact RIS Events if you have any queries: ris-events@dundee.ac.uk
How to access the event: