Dinner with Simona Miculescu, Representative of the UN Secretary-General an...
Description
We are incredibly honoured to host Simona Miculescu, Ambassador, PhD., and Romanian diplomat, currently serving as Representative of the UN Secretary-General and Head of the UN in Belgrade, for a talk at the wonderful Aubaine in Marylebone. We look forward to seeing you on the 18th of May and together learning more about Simona's inspiring life and career.
Please see menu details below and get in touch as soon as possible if you have any allergies or would prefer a vegetarian option.

Menu
To start: Smoked salmon & heritage beetroot salad
As a main: Pan-fried sea bream, crushed potatoes & sauce vierge
Schedule
18.30 - Guests Arrive
19.00 - Simona's Speech
19.45 - Q&A
20.00 - Two course dinner, wine & networking
21.30 - Carriages
About Simona

Simona-Mirela Miculescu has been serving as Representative of the UN Secretary-General and Head of the UN Office in Belgrade since July 2015. Prior to this, she was the Ambassador Extraordinary and Plenipotentiary, Permanent Representative of Romania to the United Nations, between 2008 and 2015. During her term in New York, she held several positions including: Vice-President of the UNICEF Executive Board, Vice-President of the Assembly of States Parties to the Rome Statute of the International Criminal Court, Vice-President of the Bureau of the Francophonie, Chair of the Special Political and Decolonization Committee of the General Assembly during its 66th Session, Vice-President of the UN General Assembly for its 68th Session, and Chair of the 53rd Session of the UN Commission for Social Development.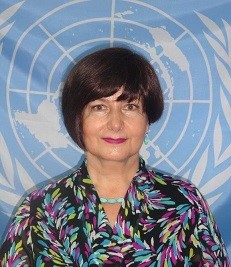 During her 24 years of diplomatic career, she served as Spokesperson for the Romanian Ministry of Foreign Affairs, Senior Media Advisor to the Minister (1993 and 1999), Director of the Press Department within the Ministry of Foreign Affairs (1994 and 2008), and as Press Secretary of the Romanian Embassy in Washington D.C. (1994-1998).
Her international career highlights include the position of Senior Public Information Officer at the Mission of the Organization for Security and Cooperation in Europe (OSCE) in Kosovo (1999-2000). Between 2006 and 2007, as part of Bearing Point, she also acted as Senior Advisor for Public Outreach to the Government of Iraq, within a USAID-funded project.
Between 2000 and 2004, she served as Foreign Policy Adviser to the President of Romania (with rank of minister), becoming the first woman in the Romanian diplomatic history to be granted the rank of Ambassador.
Simona-Mirela Miculescu also has an academic background, as well as an extensive experience in public communication. Starting with her PhD in Literature, her academic career - as a professor of International Public Relations at two Romanian universities and as publisher of several books and tens of articles – has been going in parallel with her evolution in diplomacy and international civil service. In Romania, she is known as one of the best experts in the area of the management of international public relations, and developed the first curricula on this topic, which is now used in several Romanian universities.
She is married and has two grown-up children.