Experience a prehistoric adventure and meet the dinosaurs that once roamed our planet! This roarsome adventure is coming to Barton Manor!
About this event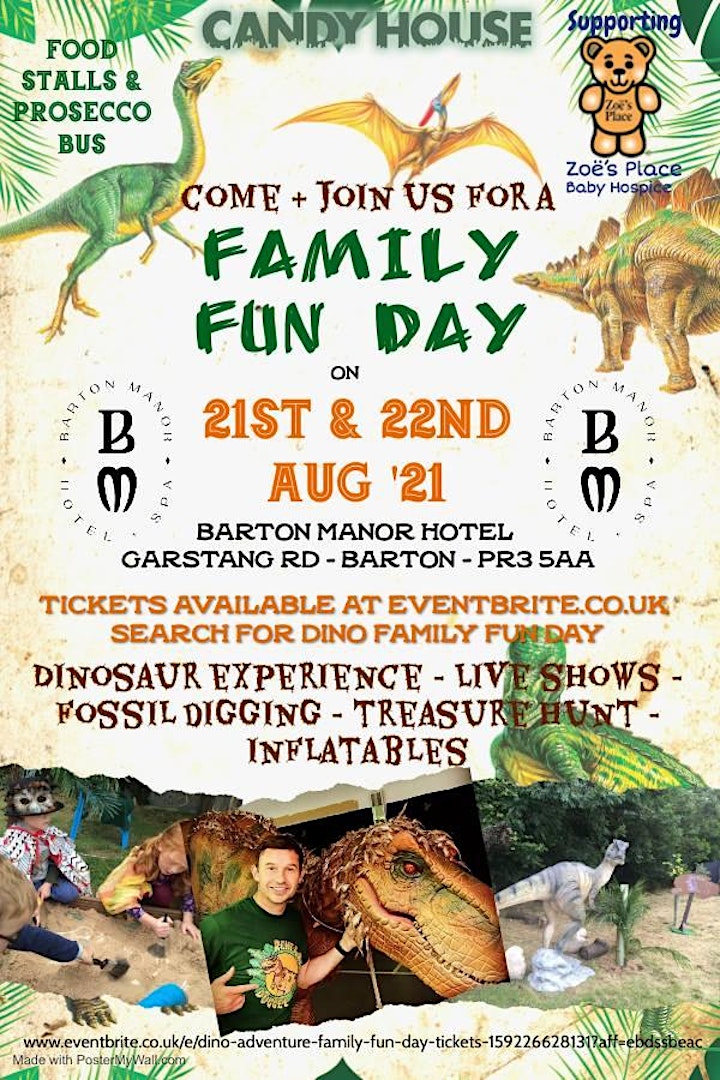 Entertaining, educational awesome family fun that will have you roaring with excitement.
Our Dino Detectives are waiting to take you on a socially distanced adventure to find everyone's favourite fleshing eating giant, the T -Rex!
Meet Stevie the Sinraptor and his good friend Betty the Brachiosaurus, but wait, where's Duggie?!
Bring the family for an awesome fun day out that will be prehistoric !
Come hunting for dino's, digging deep into our dino dust pit, witness the dawn of a new age with our live dino show and meet DJ T-decks!
And bounce away on our giant inflatables .
There's a Dinotastic goody bag for all children, as well as the chance to win a prize from our dino shop!
All set in the stunning surroundings of Barton Manor, where prehistoric meets prosecco!
Check out our party Prosecco bus and delicious street food stands.
BOOK NOW before tickets become extinct!
Note: Tickets are non transferable and non refundable.
£1 from each ticket sold goes to Zoe's Place Baby Hospice.
Due to stringent health and safety policy for this event, only ticket holders will be admitted.
Your Care and wellbeing is of our utmost importance and we endeavour to make this an enjoyable experience, rest assured one that is safe and well managed.
Please read the following important information before booking
Important safeguarding information (Covid-19)
- Children must be accompanied by an adult throughout the whole experience.
_ You must arrive on time to commence your adventure. If you are late you may forfeit part of your tour.
- You will be asked to use sanitizer before entering the event space. Masks must be worn if entering the hotel.
- On arrival you will be met by one of our dino detectives who will explain the adventure and give clear instruction.
- Please keep socially distanced from people that our not in your family bubble at all times.
- Smoke and lighting effects will be used.
- No food or drink to be allowed on the adventure.
- To ensure a great event for everyone. Anyone not following the safety advise will be asked to leave.