Description
Come and join us to hear how people are coming together to manage their direct payments.

Our Citizen Directed Co-operatives Cymru project has been funded by the Big Lottery Wales Innovation Fund. It commenced in October 2014 working in partnership with Wales Cooperative Centre and comes to an end in December.

The project has supported greater voice, choice and control for disabled people through the development of citizen-directed co-operatives as a new way to manage Direct Payments.
Come and hear about exciting developments in Wales! There will be a light lunch available on arrival.
Also, check out our NEW toolkit which will be launched on the day. Sneak preview below. Within the context of the Social Services and Wellbeing Act (2014), our toolkit explores how direct payments can contribute to independent living for disabled people. It considers different models of managing direct payments and gives focus to an emerging model of a citizen or user-led cooperative approach.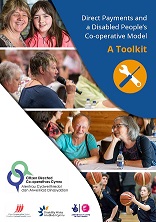 Speakers include Rhian Davies Chief executive Disability Wales; Derek Walker Chief Executive of the Wales Co-operative Centre; Moncare Cooperative and others to be confirmed.
Hope you can join us!