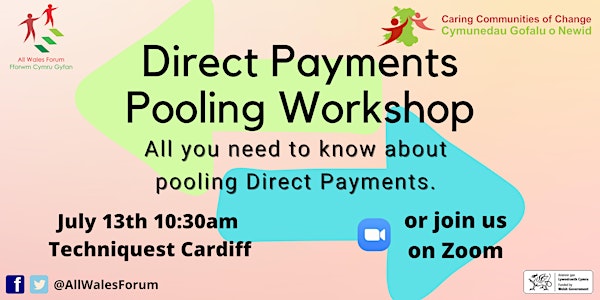 Direct Payments Pooling Workshop
Location
Techniquest
Stuart Street
Cardiff
CF10 5BW
United Kingdom
All you need to know about pooling Direct Payments.
About this event
What?
We want to host an event that pulls together families, professionals and resources on how this has been done previously, to inform attendees and encourage positive conversations and practice pooling direct payments budgets to allow for greater flexibility and choice for families in Wales.
The intent is that we have groups with curiosity in pooling payments, or with a specific idea they would like to pool budgets for, to kick start the process with some useful information, knowledge and guidance.
Why?
Pooling Direct Payments budgets is of real interest to families. This has been done previously in pockets of Wales, but not frequently. Throughout the pandemic, there has been reduced levels of services for families due to issues caused by the virus. However, creative and flexible uses of Direct Payments have given some families vital opportunities to meet their needs.
We want to develop this idea of pooling further and give families the opportunity to pool budgets to access short breaks, community activity and independent living.
How?
We would like to host a joint event to bring together families and organisations that would like to pool payments with some resources and expertise to help this happen. Anyone with an idea or an opportunity that they would like to access through pooling payments is welcome.
We also want to gather thoughts about what opportunities families would like to access through Direct Payments in the future.
We will look to run an in-person event with a digital option for those who can't make it physically.
Where?
We are hosting this as a hybrid event at Techniquest in Cardiff. There will be an option to hear from speakers by joining via Zoom.
Venue: Techniquest, Stuart Street, Cardiff, CF10 5BW
How can I get involved?
I want to come in-person: To register for the in-person event, please register via Eventbrite.
or
I want to join online: https://us06web.zoom.us/meeting/register/tZAof--rpjMrGdwI-smRi53OMcidAEILixai
After registering, you will receive a confirmation email containing information about joining the meeting.
You can keep up to date by following us on social media or emailing us, out details are below –
Email: caringcommunities@allwalesforum.org.uk
Social media: @AllWalesforum
Best,
The AWF Team