Description
Disability Meets Digital 2013l [DMD] is an unconference centring around digital access and technology and its use in the arts & cultural sectors, taking place as part of the FutureEverything Summit of Ideas & Digital Invention.
When digital technology is employed in exhibitions, performances, productions, interactives, mobile or web platforms the content on offer should be accessible to all users, including those who have access needs.
DMD aims to offer a chance for the cultural sector to discuss issues, share knowledge, find solutions and develop best practice procedures.
DMD will begin with a series of short presentations from key speakers in the field. This will be followed by the main DMD unconference, with a flexible format where the audience decides and leads the breakout sessions.
Breakout sesssion ideas:
High quality digital content and how it can be made accessible for disabled and deaf people;

Understanding what the digital access issues are and how they relate to digital discrimination and exclusion;

Finding the challenges and possible solutions already within the cultural sector;

Understanding and investigating the open source and free solutions that are available;

Know what disabled people want / need as artists and audiences;

What are the issues and knowledge building that needs addressed for cultural organisations and digital agencies?;

Understanding what the web accessibility guidelines and standards mean for different cultural organisations and the legal responsibilities they face. E.g. W3C guidelines and web accessibility standards and how they translate to arts audiences. What does it mean in terms of The Equalities Act 2010?;

Digital technologies and how they can be used to make work accessible;

Creative approaches to using technology;
These are just suggestions - please contact us if you have any suggestions or wish to be involved including sponsorship.
Who is it aimed at? Arts and cultural organisations, digital agencies/community/developers, disabled and deaf people (as artists, practitioners and audience members), funders / strategic bodies and web / digital accessibility experts.
Disabled Access: Wheelchair access, British Sign Language (BSL) Interpreters, Induction loop and Speech to text reporters will be available. We hope to also live stream online with subtitles and BSL.
Getting there: http://futureeverything.org/summit/visitor-information/
Disability Access Guide (Go Genie): http://gogenie.org/venue/disability-meets-digital
Twitter: hashtag #DMD13
SPEAKERS:
Brad Giblin

:

Film Victoria

(AUS) Digital Media Manager

@bradleybones

Accessibility gaming and funding

Lynsey Graham

: Designer,

Blitz Games Studios

are the top 5 European independant developer of video games [Lynsey is also co-author UK Accessibility Gaming Guidelines] Twitter:

@_bgs_
Makyala Lewis:

HCI, web accessibility + social media researcher. Founder of a11yldn digital accessibility miniconferences.

@maccymacx Website: www.makaylalewis.co.uk
Samantha Chisnall:

cultural vulture and Pesky People blogger

Chris Hammond (Full Circle Arts): user led inclusive arts company in the NW projects include Hackshack and their GPS mapping project. @full_circle_art Website: http://www.fullcirclearts.co.uk/
Talking Birds: *A Difference Engine* to display subtitles + audio description on smartphones/table/devices during performances and events. @birdmail

Website

www.talkingbirds.co.uk

SCHEDULE: (subject to change)
9.30am Register / tea/coffee
10am Introduction - Alison Smith [Pesky People]
10.10 - 12.00 Speakers [plus live streaming TBC]
10.10 Brad Giblin, Film Victoria (via skype)
10.25 Lynsey Graham, Blitz Games Studios
10.40 Samantha Chrisnall
10.55 Makayla Lewis
11.10-11.20 BREAK
11.20 Chris Hammond, Full Circle Arts
11.40 Talking Birds demo *A Difference Engine*
11.55 - 1210 Unconference introductions and sessions pitched
12.10 - 12.15 BREAK [schedule put up]
12.15 - 12.45 Session 1*
16.30 - 17.00
Feedback / What next?
* each Session has 5 different workshops spaces available
Disability Meets Digital logo designed by @Luke_Clift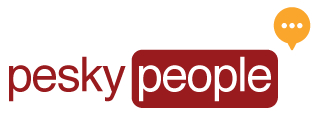 Organiser of Disability Meets Digital Unconference 2013
Pesky People is a disabled/deaf led creative business start up led by Alison Smith aka @peskypeople  who's mission is to use digital technology to seek and create solutions that improve digital access and inclusion.
We harness digital, content and social media to profile, challenge and campaign against digital discrimination using social media to seek solutions (with considerable success).