Disaffected: The Cultural Politics of Unfeeling in 19th Century America
IAS & SPRC Book launch of Disaffected: The Cultural Politics of Unfeeling in Nineteenth-Century America by Xine Yao
About this event
This event will take place on Zoom. Please sign up via Eventbrite and you'll receive an email with the Zoom link before the event.
WOC scholars in dialogue: Jade Bentil, Lara Choksey, Lucia Lorenzi, Kerry Mackereth, Christine Okoth and Rianna Walcott respond to Xine Yao's book Disaffected: The Cultural Politics of Unfeeling in Nineteenth-Century America. Chaired by Christine Okoth.
In Disaffected Xine Yao explores the racial and sexual politics of unfeeling—affects that are not recognized as feeling—as a means of survival and refusal in nineteenth-century America. She positions unfeeling beyond sentimentalism's paradigm of universal feeling. Yao traces how works by Herman Melville, Martin R. Delany, Elizabeth Stuart Phelps, Frances Ellen Watkins Harper, and Sui Sin Far engaged major sociopolitical issues in ways that resisted the weaponization of white sentimentalism against the lives of people of color. Exploring variously pathologized, racialized, queer, and gendered affective modes like unsympathetic Blackness, queer female frigidity, and Oriental inscrutability, these authors departed from the values that undergird the politics of recognition and the liberal project of inclusion. By theorizing feeling otherwise as an antisocial affect, form of dissent, and mode of care, Yao suggests that unfeeling can serve as a contemporary political strategy for people of color to survive in the face of continuing racism and white fragility. The monograph is in the Perverse Modernities series edited by Jack Halberstam and Lisa Lowe. Disaffected won the Duke UP Scholars of Color First Book Prize.
Disaffected: The Cultural Politics of Unfeeling in Nineteenth-Century America (Duke University Press, 2021)
For a 30% discount use the code E21YAO on the following sites:
North America: Duke University Press
UK, Europe, Middle East, Africa, Asia Pacific: Combined Academic Publishers
About the author:
Christine "Xine" Yao hails from Toronto, Canada. She joined UCL in 2018 as Lecturer in American Literature in English to 1900. She held a SSHRC Postdoctoral Fellowship at the University of British Columbia (2016-2018). In 2016 Xine acted as PhD Marshal for her graduation from Cornell University where she completed her PhD in English with minors in American Studies and Feminism, Gender, and Sexuality Studies. Her MA is from Dalhousie University and her BA Honours is from the University of Toronto, Trinity College where she earned the Chancellor's Gold Medal in the Arts. Her PhD and MA research received funding from the Social Sciences and Humanities Research Council of Canada. She is a BBC Radio 3/AHRC New Generation Thinker.
Currently Xine serves on the Executive Committee of C19: The Society of Nineteenth-Century Americanists as a Member-at Large. For 2021-2024 she represents the LLC 19th-Century American Forum to the Delegate Assembly of the Modern Language Association. She is the co-host of PhDivas, a podcast about academia, culture, and social justice across the STEM/humanities divide. Xine is the founding chair of the podcast initiative for C19: The Society of Nineteenth-Century Americanists.
Speakers:
Jade Bentil (she/her) is a Black feminist historian and PhD researcher at the University of Oxford. Her scholarship uses oral history methodologies to centre the experiences of women of African and African-Caribbean descent in Britain and their long history of feminist activism. Her postgraduate dissertation, Black Women Fighting Back in Thatcher's Britain, won the 2017 Marion Sharples prize for Best Dissertation in the School of History at the University of Leeds. Jade's debut book, REBEL CITIZEN, uses oral history interviews to explore the lived experiences of Black women who migrated to Britain following the Second World War and is forthcoming from Allen Lane.
Lara Choksey (she/her) is Lecturer in Colonial and Postcolonial Literatures in the Department of English at UCL. Her research draws from science and technology studies, world-systems theory, and critical race and decolonial studies, with a particular interest in speculative fiction and poetics. She is the author of Narrative in the Age of the Genome: Genetic Worlds (Bloomsbury 2021).
Lucia Lorenzi (she/they) is a queer Black scholar and visual artist living and working on unceded Kwikwetlem territory. Trained as a Canadianist and trauma theorist, Lucia's research and artistic interests converge on questions about the politics of representation, with a particular focus on how artists and writers use silence as a means of reshaping, resisting, and re-imagining experiences of violence.
Dr Kerry Mackereth (she/her) is a Christina Gaw Post-doctoral Research Associate in Gender and Technology at the University of Cambridge Centre for Gender Studies. She is also a Research Fellow at the Leverhulme Centre for the Future of Intelligence. Kerry's work examines how AI reproduces and reanimates gendered and racialised histories of violence. She draws on a wide range of disciplinary perspectives including critical race theory, gender studies, STS, and critical prison studies. Some of her current research projects include how the concept of the 'Yellow Peril' shapes contemporary AI discourse, and how sexual and gender-based violence is coded into predictive policing technologies. Kerry is also the co-host of The Good Robot podcast which explores technology through a feminist lens' @KerryMackereth @TheGoodRobot1
Christine Okoth (she/her) is Lecturer in Literatures and Cultures of the Black Atlantic at King's College London and was previously Research Fellow at the University of Warwick where she worked on the project World Literature and Commodity Frontiers run by Dr Mike Niblett and Dr Chris Campbell. She is currently writing a manuscript entitled Race and the Raw Material: Black Aesthetics as Extractive Form which argues that contemporary Black writers and artists invoke raw materials as a means of advancing a global, eco-materialist account of race and racial form. A part of this project has been published in Textual Practice in a special issue on Writing Extractivism; Christine's other work has appeared or is forthcoming in The Cambridge Quarterly, The White Review, and Modern Fiction Studies.
Rianna Walcott (she/her) is an LAHP-funded PhD candidate at Kings College London researching Black women's identity formation in digital spaces, and a graduate twiceover from the University of Edinburgh. She co-founded projectmyopia.com, a website that promotes inclusivity in academia and a decolonised curriculum. She frequently writes about race, feminism, mental health, arts and culture for publications including The Wellcome Collection, The Metro, The Guardian, The BBC, Vice, and Dazed. Rianna is co-editor of an anthology about BAME mental health - The Colour of Madness, and in the time left over she moonlights as a professional jazz singer. For more information, see riannawalcott.com, and Rianna also tweets at @rianna_walcott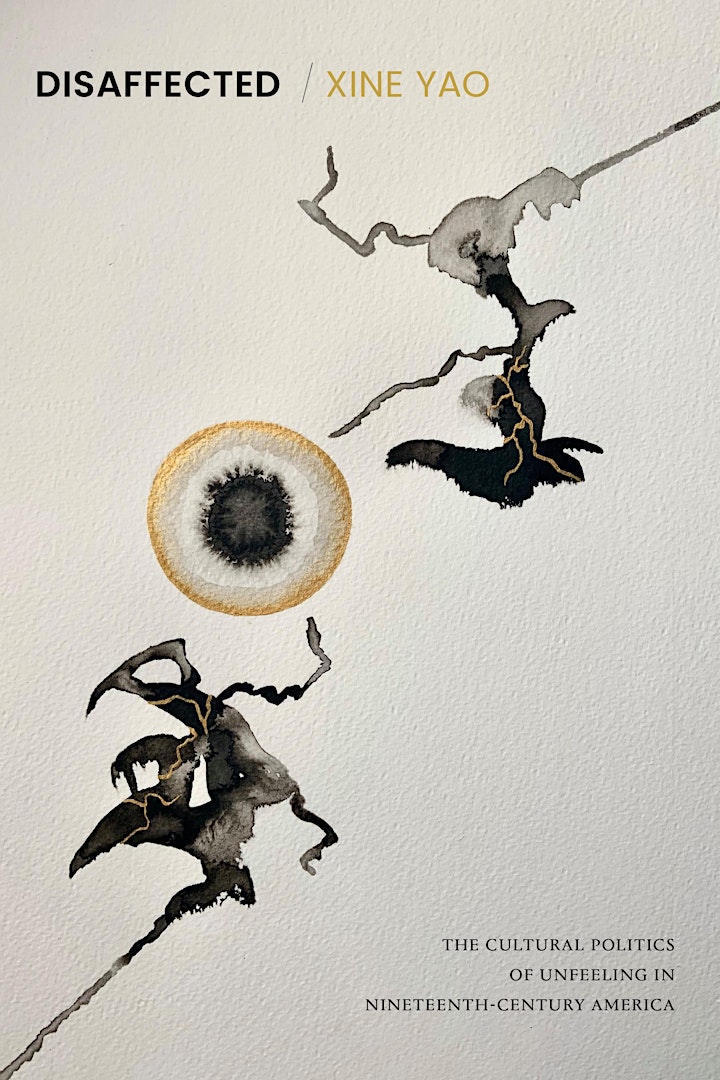 Organiser of Disaffected: The Cultural Politics of Unfeeling in 19th Century America