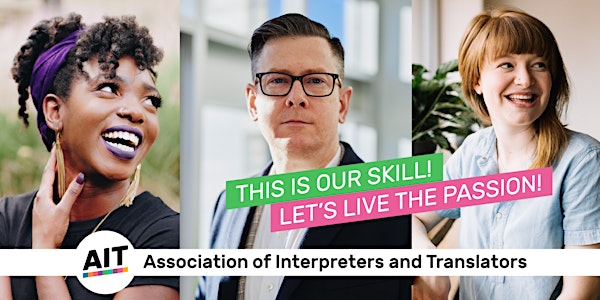 Disaster scenarios in interpreter-mediated therapy and how to avoid them
Sales Have Ended
Registrations are closed
Disaster scenarios in interpreter-mediated therapy and how to avoid them
About this event
DR BEVERLEY COSTA grew up in a family with three languages. She is a counsellor, psychotherapist and supervisor and founder of the multi-ethnic counselling service Mothertongue (2000–2018), the Mental Health Interpreting Service, the Pásalo Project www.pasaloproject.org and Colleagues Across Borders. Her book Other Tongues - psychological therapies in a multilingual world was published in August 2020.
Psychological therapists are used to working on their own in a relationship directly with their client. When an interpreter is needed, suddenly, the conversation isn't between two people, it's between three. What previous experiences of being in triangular relationships does each person (interpreter, therapist, client) bring to the interpreter-mediated triangle? What are our default coping strategies when we feel excluded or dismissed? We all have them. What do we do with them when they spring up unexpectedly in interpreter-mediated therapy?
Friday, 1 July
2-4PM
First session will focus on the triangular dynamics in spoken language interpreter-mediated therapy. It will begin with interactive teaching input. We will then discuss case examples which illustrate how things can go wrong. We will explore
how they could have been avoided
For this section of the workshop links with theory e.g., systems theory, attachment theory and transactional analysis, may arise from the discussions.
Because this is a highly interactive workshop, numbers are limited to 15 participants. Tickets will be allocated on a first come first served basis.
(Although there are overlaps with BSL interpreting, this workshop focuses on working with spoken language interpreters)
Friday, 8 July 2022
2-4PM
In Session 2 we will explore more cases, we will refer back to previous theories and there will be further theoretical input on:
· unconscious empathy and intelligent empathy (or conscious empathy)
· reactive v reflective behaviour
· intervention styles
Friday, 15 July 2022
2-4PM
In Session 3 we will explore more cases, we will refer back to previous theories and there will be further theoretical input on:
· giving and receiving feedback
· the Power Triangle