Description
This event is open to any potential supplier for the procurement of a driver safety solution.
What is the Driver Innovation Safety Challenge ?
A significant cause for dramatic incidents in railway and bus networks is driver health. Accidents can often be linked to two aggravating factors: fatigue and illness resulting in reduced cognitive awareness, loss of consciousness or paralysis at the wheel.
In order to ensure the safety of passengers on its networks, Edinburgh Trams and the City of Edinburgh Council are looking for a solution to monitor and analyze relevant data that pre-emptively identifies the main symptoms of illnesses which could result in loss of focus, consciousness or paralysis and identify the fatigue levels of a driver which could similarly create conditions for loss of capacity.
Why participate to the Challenge ?
Edinburgh Trams' DISC is funded by the Can Do Innovation Challenge Fund. Companies selected to be part of the challenge will receive:
- Up to £168 000 in funding
- Full rights to retain and exploit any IP developed during the challenge
- The ability to build their customer base by pitching in front of Transport for Edinburgh and UK Tram executives
A contract with Edinburgh Trams for the deployment of the solution will be awarded to the winner of the challenge.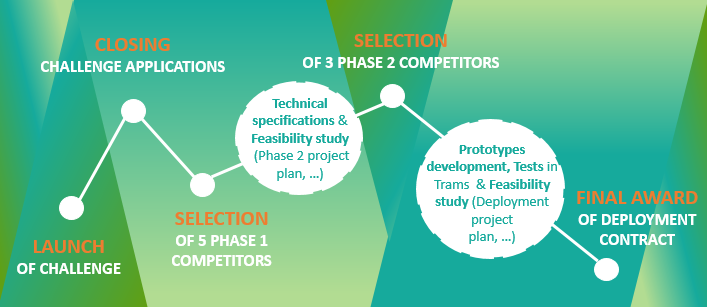 What will you see during this event ?
This event has 3 objectives:
1. Present the challenge

Discover the structure and technical requirements of the challenge (casing, data storage and security, …).
2. Help you improve your application

From the application process to ICT constrains, ask your questions to a panel of experts.
3. Facilitate networking

The challenge winner will be a company/consortia with a team including health and tech profiles. Use this opportunity to network and strengthen your application.
AGENDA
13:30 – 13:45 Tea / Coffee and Networking
13:45 – 13:55 Welcome and Introduction to the Challenge by George Lowder Chief Executive of Transport for Edinburgh
13:55 – 14:10 Presentation of the key technical requirements of the challenge
14:10 – 14:30 Presentation of the challenge structure and the Innovation Partnership Procurement process
14:30 – 15:00 Q&A
15:00 – 15:10 Conclusion
15:10 – 16:30 Networking
If you are unable to attend this event, you may want to attend our other session the 8th October. Otherwise record your interest in the challenge and find all guidance documentation on the challenge page on Public Contracts Scotland.

https://bit.ly/2OYtw7n