Sales Have Ended
Registrations are closed
Thank you for your time.
Sales Have Ended
Registrations are closed
Thank you for your time.
Description
This event is open to any potential investor and supplier for the procurement of a driver safety solution.
What is the Driver Innovation Safety Challenge? - Summary
The DISC project (Driver Innovation Safety Challenge (DISC) is an Innovation Partnership procurement offering up to £168k of funding for R&D and test over a project life of up to 18 months which, if successful, may award a Framework contract of up to 3 years with Edinburgh Trams through Edinburgh City Council.
Work is underway to ascertain the Authorities and organisations interested in their eligibility to directly access the contract. These may include 5 potential tram networks including: Nottingham Express Transit, Blackpool Transport, Sheffield Supertram, Transport for Greater Manchester, and Edinburgh Trams. Dialogue with other Authorities who provide Public transportation systems such as Lothian buses are progressing.
Bidders to DISC are expected to develop a fully integrated solution able to identify, as close to real-time as possible, the early symptoms of loss of focus, consciousness/alertness/paralysis or similar due to:
fatigue levels – the bidders are expected to have a solution able to detect both micro sleeps, early signs of sleep, and a decline in levels of alertness.

common conditions – DISC is not prescriptive regarding the range of acute and/or chronic illnesses monitored which may lead to a reduction in the ability of the operator to manage the tram safely.
The DISC solution is not required to be a medical grade device and is not expected to lead to a diagnosis, but instead alert the control room if the driver is at risk of a loss of focus, consciousness/alertness, and paralysis. Bidders are expected to develop a Green/Amber/Red alert scoring methodology reflecting the risk.
If a sufficiently "high risk" profile or incident is detected, it is anticipated that an appropriate message/alarm will be displayed both to the driver and to the Tram control room, making the control team aware in real time of risks to passengers (citizens) from changes in the drivers' ability to operate the tram safely, and allowing for a timely intervention to be taken.
You can register to the challenge and access a more complete description of the DISC requirements on Public Contracts Scotland: http://www.publiccontractsscotland.gov.uk
What is the challenge timeline and structure?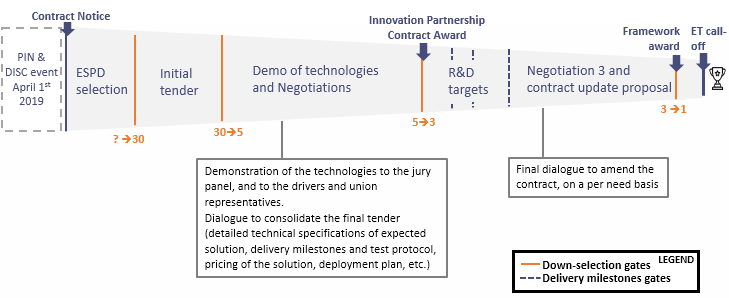 What will you see during this event?
This event has 2 objectives:
1. Present the tendering process
The City of Edinburgh Council procurement team will provide advices and best practices for the Phase 0 ESPD and Initial tender steps.
2. Facilitate networking

Organisations that believe they can solve the challenge and want to bid for the contract must include both elements in their bid – fatigue and health. If your organisation can produce a solution to either aspect of the challenge but cannot provide the entire solution, you are encouraged to develop a "partnership" prior to the competition. This event aims to help you meet potential partners.
AGENDA
13:00 - 13:15 Tea / Coffee and Networking
13:15 – 13:30 Welcome and Introduction to the Challenge by George Lowder Chief Executive of Transport for Edinburgh
13:30 – 13:45 Presentation of the minimum requirement of the solution
13:45 – 14:05 Advices to complete the ESPD and Initial tender
14:05 – 14:30 Interactive Q&A
14:30 – 15:30 5mn speed networking rounds
15:30 – 16:00 Open networking
If you wish to take part to the speed networking, when registering to the event through Eventbrite:
Please provide a short description of your company – a networking guide will be shared will all participants 28/03. Upon reception, please indicate if you would like to be paired with specific companies for a speed networking round.

Sign-up for one of the following profiles: health / fatigue / telematics/ IoT platform / investor
Based on this element, networking groups will be created to facilitate discussions.
In case of questions mail marie.josselin@edinburgh.gov.uk