Description
dis/cinema is hosting a screening of Who Am I To Stop It, a documentary on isolation, art, and transformation after brain injury. The film centers on art not as rehabilitation but as a tool for personal growth, meanful work, and social change. Who Am I To Stop It takes an intimate look at life and art with brain injury through witnessing the lives of three artists (Dani, Brandon, and Kris) as they create art, interact in their communities in the Pacific Northwest of the US, and go about their daily lives.

This event is facilitated by the film's director Cheryl Green MFA, MS who integrates her training in Performance As Public Practice and Speech-Language Pathology to explore how story can be used to break down stigma and barriers. After decades of repeated sports concussion and a series of mild traumatic brain injuries in 2010 and 2011, she began making films that combine personal narrative and activism to create dynamic, artistic tools to challenge misconceptions and stereotypes of disability while celebrating pride in disability experiences. Cheryl is host of the podcast Stories from the brainreels, a blogger, Closed Captioner and transcriptionist, and of course, a filmmaker who is proudly neurodivergent.
Who Am I To Stop It is Closed Captioned and Audio Description is available.

For accessibility enquiries, please contact us at discinemasheffield@gmail.com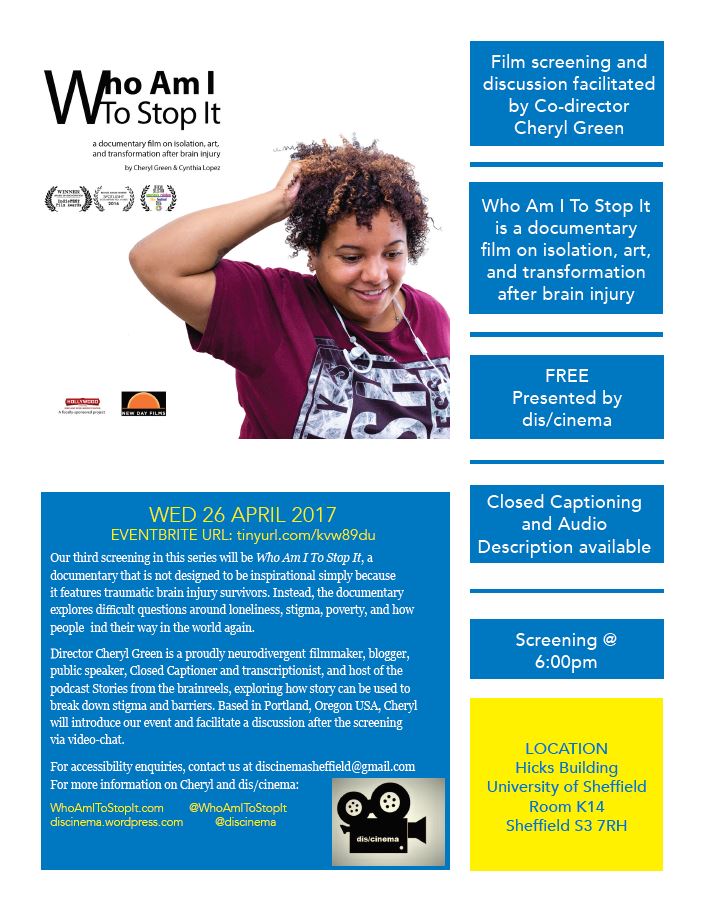 Hicks Building room K14, University of Sheffield. Hounsfield Rd. Sheffield S3 7RH