Discipleship & Mission Workshop

Saturday, 27 February 2016 from 10:00 to 16:00 (GMT)
Event Details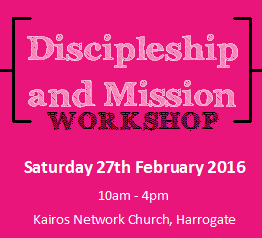 Come and join us for a one-day workshop for anyone who is interested in thinking through what transformational discipleship & mission looks like. Suitable for church leaders, lay leaders and anyone with an interest in growing a discipling culture at the heart of the church. 
There will also be a stream for those who are pioneers and planters.
The day is hosted by Kairos Network Church with input from Nic Harding [Frontline Church Liverpool & Kairos Connexion] and other experienced practitioners. There will be teaching, interactive seminars and a chance to connect with like-minded others.
You will hear about some transferable principles and tools as well as stories and examples of discipleship and mission in action. We will be offering input and discussion around some of the following questions:
* What does being a disciple of Jesus mean for the 21st Century Christian and how should that affect the way we live and work? 
* How do we disciple those who aren't in our churches, in the way Jesus did?
* How do we create a discipleship culture at the heart of our churches?
* How do you discover and develop missional vision?
* How do you plant healthy missional communities?
* How can you raise up leaders who are capable of leading others into mission?
* What does discipleship and mission for teenagers look like?
...and more!
The cost is £25 and includes lunch and refreshments. Please register your place on the workshop here and bring payment on the day in cash or by cheque made payable to 'Kairos Network Church.'  
When & Where

Kairos Network Church
Westcliffe Hall
2 Harlow Terrace
HG2 0PN Harrogate
United Kingdom


Saturday, 27 February 2016 from 10:00 to 16:00 (GMT)
Add to my calendar
Organiser
Releasing Communities of Followers in the Mission of Jesus
We are a church with a passion to be followers of Jesus who live out His mission – people who are good news in our workplaces, families and friendships. We gather together at various times at the Kairos Resource Base and also in smaller groups called  Mission-Shaped Communities each with a different vision for mission around the Harrogate area.
We take our name from a Greek word: Kairos. It describes a way of talking about time; not chronological everyday time, but the moments when something new happens.  Times like when you first fall in love with someone, or when something suddenly clicks and make sense. In Mark 1 Jesus says "The (Kairos) time has come.  The Kingdom of God is near."  The message of Jesus is that the time is now.  God is doing something and He is looking for people who will get involved.
The church operates as an Anglican Fresh Expression with a Bishops Mission Order