Description
Disciplined Agile (DA) isn't a Scaling Framework or another Agile methodology. It isn't trying to be. DA is much more than that. It's a comprehensive guide of all the things you need to do for an Agile transformation.
DA utilises all the learning from the Agile Frameworks such as Scrum, Kanban, Lean Start Up, and many more. Combining this with transformation knowledge and organisation wide changes such as HR and Finance, and tackles topics like Governance, DevOps, Portfolio Management and Culture.
It's a one stop shop, organised around specific goals that allows you to consider your options and learn about your choices. It's a way of making sure you don't miss anything.
What's even more interesting is that it's based upon real data. What's actually going on in other organisations. It's not theory. It promotes enterprise awareness that's based on industry successes, what works and doesn't work elsewhere.
It covers the whole delivery lifecycle and beyond, incorporates learning, and is very much focused around people.
You start where you are now, building incrementally, learning as you go, moving towards an agile / lean learning organisation.
Attend this course to learn all the things you need to do for an Agile transformation.
---
"If you are looking for a different "tool" for your Agile Coach toolbox, I strongly recommend this Disciplined Agile and this course. In our Agile world of "this methodology is better than this other one" it's really motivating to see that we have one that embraces all that is good in the others and use it in our favour." - Elaine Tittanegro - Agile Coach

---



What you will learn:
Discover how agile solution delivery works in enterprise-class settings

Learn how to avoid costly "agile beginner mistakes" by starting with a full delivery lifecycle

Learn how all aspects of software delivery – architecture, design, testing, programming, leadership, quality assurance, data administration – come together in a cohesive whole

Discover how to tailor your agile process to reflect the actual situation you find yourself in

Learn how people in traditional roles can transition into an agile team
---
A refreshingly pragmatic course... describing practices and strategies to adapt and scale your current Agile approach to the unique context/goals of your organisation.
An important point to note is that this is not another methodology, it is a Process Decision Framework - if you are using Scrum, XP, Kanban or SAFe, you are already using a subset of the DAD framework.
The materials were presented with good pace and in an engaging manner and given his wealth of Agile and Lean experience, Simon was able to cover off the myriad of questions arising easily. Highly recommended. " - Chris Norris - Agile Programme Director
---
Who Should Attend a DA course:

Should have good knowledge of Scrum, Kanban, etc. We will not go over the basics.

IT practitioners new to agile who want to get an effective start at agile solution delivery (see above comment)

Existing agile practitioners who want to take it to the next level

Senior IT Management who want to gain a deep understanding of how to take a disciplined approach to agile solution delivery

Agile practitioners who seek the designation of Certified Disciplined Agilist (CDA) or a Certified Disciplined Agile Practitioner (CDAP)

PMI-ACP aspirants or current certification holders - PMI is the world's largest not-for-profit membership association for the project management profession. PMI-ACP (PMI Agile Certified Practioner) 'was' created for those who believe in and apply agile principles and practices on projects. It requires a combination of training, experience and an exam.
---
"The course leads you through the framework in a way that is engaging and instructional, building a picture of the benefits to you and your organization along the way. It's a great introduction to Disciplined Agile for organizations, managers or Agile Coaches . Simon Powers delivers the course in an engaging format, building a safe space in the room which is conducive to learning and play" - Ash Sheikh - Enterprise Transformation Architect
---
Outline:
Introduction to Disciplined Agile (DA): Learn about the four delivery lifecycles supported by DA; how DA is a hybrid that shows how proven practices from a range of sources fits together; how to take a flexible, non-prescriptive approach to agile development; the importance of being enterprise aware.

Disciplined Agile roles: Team Lead (ScrumMaster), Product Owner, Architecture Owner, Team Member, Stakeholder + five more optional scaling roles.

Inception Phase: Covers key activities for initiating a DA team, including initial requirements modelling, initial architecture modelling, initial release planning, strategies for your physical and virtual work environments, initial risk identification, and driving to a shared vision with your stakeholders.

Construction Phase: Describes many technical strategies for building consumable increments of your solution, including test-driven development (TDD), acceptance TDD, how to initiate an iteration/sprint, look-ahead modelling and planning, spikes, regular coordination meetings, continuous integration, continuous deployment, whole-team testing, parallel independent testing, information radiators, Kanban boards, burn up charts, and many more. In this module we also look at agile construction from a traditional point of view, showing how activities such as architecture, analysis, design, testing, management, and user experience (UX) are addressed all the way through the lifecycle.


Transition Phase: Overviews strategies for releasing the solution to your stakeholders.

Whole organisation topics: People Operations, DevOps, Culture Change, Enterprise Awareness

Organisation Tranformation

Summarizing the Workshop: A Retrospective
Certification
One complimentary Certified Disciplined Agilist (CDA)test attempt when written within 30 days of the workshop end date, a $100 US value

Upon workshop completion you are able to claim 7 PDU/Contact Hours, Category 3 from the Project Management Institute (PMI)

Attendees earn the designation of Disciplined Agilist
---
"I'm very pleased I went on the course. It was well presented, had a good pace and there was plenty of room participation. It'll help me frame how I can support organisations adopt agile ways of working which is sensitive to where they are." - Dean Latchana - Agile Coach
---
The Trainer - Simon Powers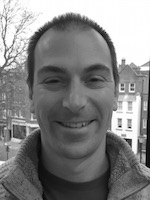 Simon Powers is an Agile Coach and founder of Advenutres with Agile, specialising in large scale transformations and agile adoption. He has a background in very large enterprise architecture which has led on to organisational design and agile process refinement. Simon has 18 years software delivery experience and has been delivering Agile solutions to very large corporates including Bloomberg, Goldman Sachs, NYSE, BNP Paribas, Barclays, Oxfam, Tesco and many others.
He is a certified Scrum Master and Professional with the Scrum Alliance, a certified Scaled Agile Program Consultant (SPC), a certified Large Scale Scrum practitioner (LeSS), has achieved the black belt certification level in the Disciplined Agile Delivery framework (DAD) and a Certiifed Disciplined Agile Trainer. He is a part of the LeSS coaching and training group, sits on the Disciplined Agile Consortium's Advisory Council and chairs the Agile Project Management group's annual round table conference. He believes that Agile at scale can change the way we do business for the better and that bringing human values such as honesty, trust, openness and the courage to speak up, will bring better financial outcomes and better work satisfaction.
Endorsed by Scrum Alliance
AWA is endorsed by the Scrum Alliance. By attending this course you can earn SEU Points.
Terms and Conditions
Please read our terms and conditions for bookings.