Description
Strategic Marketing Seminar for Small Business Owners
How To Bring In A Consistent Stream Of Leads And Sales Every Single Month Without Fail ...Even if You Have A Tiny Marketing Budget!
Are you struggling to make consistent sales every month?
If so, you're not alone.
This is a problem that the majority of small businesses face…because they all tend to make the same marketing mistakes.
If you want to bring in revenue that you can rely on and discover how to bring in a consistent stream of ideal sales leads every single month—without any hard work on your part—then please read on.
Since 2012, I've been helping small-business owners like yourself boost sales and profit, improve operations, and build long-term and reliable profits every year with a proven marketing system.
At the core of this system is learning to differentiate your business and communicate the true value you offer. Without this differentiation, you look like everyone else.
And when you look like everyone else, you have to charge like everyone else.
What You Say in Your Marketing and How You Say It...Is Almost Always More Important Than the Marketing Medium Where You Say It…
I'm tired of seeing small-business owners like yourself struggling to bring in leads, trying tactic after tactic, throwing good money right out the door.
And that's why I want to teach you my proven system for driving more leads and sales to your small business.
In this seminar I'll Teach You My Step-By-Step Formula for Making Your Phone Ring, Herding Prospects to Your Website and Marketing Your Business Successfully
This information is so powerful and compelling that it will position you in the top tier of all lead generation. It will boost your confidence in client acquisition and form the foundation for all your future marketing activities.
When you attend my seminar, you'll learn how to:
Generate all the leads your business can handle, and then convert more of those leads into sales than ever before


Develop a marketing strategy that delivers a consistent stream of perfect leads, month after month, without any hard work on your part
Earn £5,000 to £10,000 in additional revenue in the next 90 days
Avoid the most common marketing mistakes that are gobbling up your marketing budget
Deploy my 4-part marketing equation to set your brand apart from the competition, allowing you to charge prices that no one else can
Leapfrog the competition by engaging with potential customers before they ever see a marketing message from the competition
This is the seminar that will finally give you the focus and direction you need to take hold of your business, and grow it to the level you've always dreamed of.
And you'll receive a FREE copy of my latest book "Your Best Year In Business: 5 Steps To Taking Back Control of Your Business and Creating Your Dream Lifestyle AND How To Get Started In The Next 30 Days!"*.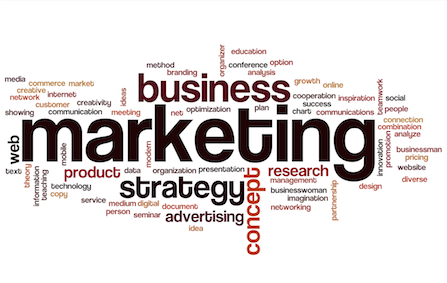 In Just a Few Hours, You Will Learn More About Marketing Than You Have in the Past 5 Years…
Here's what just a few past attendees are saying:
"This is first one I've found for many years that is a complete step-by-step process to get you where you want to be in business." - Ron E West, March 2017
"It's been extremely useful and I've got lots of new tips to implement. I would sincerely recommend that you attend this seminar." - Tricia Charles, March 2017
Join Me and Learn a Bulletproof Marketing System That Will Help You Take Your Business To The Next Level
If you want to experience different results tomorrow you need to make a change today.
So, if you're finally ready to make that change and experience quantum growth in your business, book your spot in my seminar before they're all gone!
*You must attend the seminar to receive my book. No refunds or credits will be given for no-shows.
Russell Streeter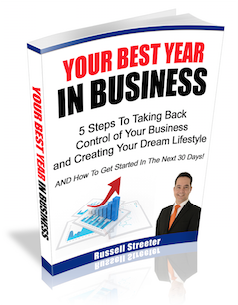 Russell is a strategic marketing specialist, small business coach and author of "Your Best Best Year In Business: 5 Steps To Taking Back Control of Your Business and Creating Your Dream Lifestyle AND How To Get Started In The Next 30 Days!"
He is a Fellow of the Association of Chartered Certified Accountants and spent over a decade working with global brands like PwC, Prudential and Old Mutual. Since 2012 he has been helping small business owners like yourself to boost sales and profit, improve operations and build long-term business value.
"Russell is an inspiring business mentor with an aptitude for understanding clients which makes him stand out from other mentors. My business has benefited immensely from our time together." - Robert Briggs, Director,Crimson Crab
"Russell breathes fresh air and ideas into business development. His influence has helped us achieve 30% growth during our last year and I would highly recommend him." - Ian Skinner, MD, The Diverse Cleaning Company South Ltd.
"I cannot recommend Russell highly enough. With his help and support I am now much less intimidated by the idea of expanding my business." - Elfrieda Dickinson, Owner, The Studio
"Revenue has increased 36% since we started working together and I always leave our meetings energised and confident about the future of my practice." - Grace Haine, Grace Haine Eyecare
As an award-winning speaker, you can be certain that this seminar will be engaging, interactive and highly motivational!
Book your place now!