Discover Digital: self management and care (Inverness)
Description
How can we harness the power of digital to look after our health and wellbeing, on our own terms?
This is the question we will explore together, on this final day of our 2019 edition of Discover Digital.
This will be a day suitable for all ages, dedicated to health and wellbeing. Together we will discover some of the ways in which digital tools can help us look after ourselves, now and in the future.
Walkins on the day will be available, but it's better to book a free ticket, especially if you want to attend a talk or a workshop.
Programme
Stalls and activities will be available to visit between 10am - 3pm. Here is a snapshot of what will be available:
BCS Health and Care Scotland and Robert Gordon University will talk you through two creative self management apps for children: E-Bug and Emollizoo.

NHS Highland will present how very disabled patients can operate domestic devices - TV, radio, door openers, computer equipment - with the activation of a single easy to use switch, as well as two digital projects to ensure wheelchair users are properly supported.

ALISS are working to map local community activities, groups and services which help people to live well. Chat with them about how ALISS can help you to find this information and find out how to share your own knowledge with family, friends, neighbours and colleagues.


DHI will host an interactive stand to explore what Self Management means to you - with "helping hands" and through "future glasses", we'll have a look to see how technology might fit in all this.

BHF will tell you why knowing about blood pressure monitoring is important for your health, see how you could be monitoring it at home and how you can help yourself to better health.
Other standholders include: Nesta, YoungScot, Highland Children's Forum, PAMIS, Lifescan, My mHealth, British Heart Foundation. See the full programme.
Additionally, there will be a number of talks and workshops to join on the day:
10:15am: LGOWIT - Introduction to the Self Management Toolkit

10:35am: Tommy Whitelaw - Digital: it's all about people and relationships
11:15am: LGOWIT - Demo of the Self Management Toolkit
12:00am: Nesta - Workshop: Self management and data.
13:00pm: NHS Highland TEC - NHS in your Home: demonstrations of technologies used by NHS Highland which may enhance the way in which they support you.
14:05pm: Young Scot - A workshop on technology enabled care, designed by young people.
About Discover Digital
This series of events, run by the ALLIANCE, is brought to you through an extensive partnership and the support of the Scottish Government (Technology Enabled Care division and Digital Health and Care division), Nesta, BCS Health and Care Scotland and the DHI.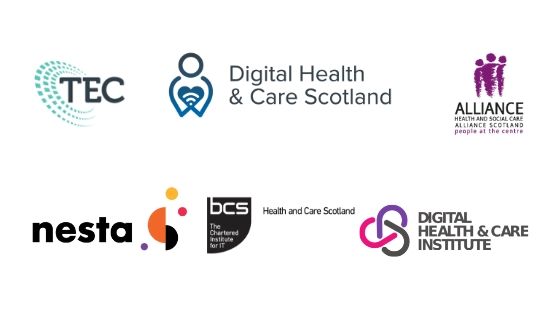 Contact
If you have any questions relating to this event please contact Carmen Paputa-Dutu on 0141 404 0231 or by email at DHCscot@alliance-scotland.org.uk.
Accessibility and parking
You can find out more information about how to get to Eden Court and parking charges at: https://eden-court.co.uk/your-visit/getting-here
We have a limited budget to help cover attendance costs (such as transportation, interpreters etc). If you or your group would like more information about assistance with such costs, please let us know when you register.
This is bound to be a busy event and venue. If you think you or someone else from your group might get unsettled by this, please let us know so we can try and ensure you'll have a nice visit by taking your needs into consideration in advance.
Privacy Policy
The ALLIANCE may take photographs at this event for case studies, publications, website, social media, promotion or marketing purposes both printed and online. You will be able to opt in or out of appearing in such photographs during registration and on the day of the event.
Our full privacy policy can be read on our website.