Discover new business opportunities through the Lloyds Bank Trade Portal
Lloyds Bank Academy invites you to explore the International Trade Portal – a powerful free insights tool to achieve your business ambitions
About this event
Are you looking for new opportunities to grow your business, or improve resilience throughout your supply chain?
The pandemic, rising geopolitical tensions and Brexit have created sustained pressure on supply chains. The ramifications have impacted all businesses and created a new imperative to act. These supply chain challenges are however also present alongside emerging opportunities for businesses, both at home and abroad, as the global economy moves towards recovery.
This Academy session introduces, the Lloyds Bank International Trade Portal, open to non-customers and customers a like. It is available free and is a powerful insight tool to help your business achieve its trade ambitions.
During this session we will give a live demonstration of how the portal can support your business, including key features such as finding new buyers and suppliers, discovering the best market for your product or service, calculating the costs of trade and how to conduct business in a new country – amongst much more.
We will also be joined by John Pearce, CEO of Made In Britain, to discuss how the International Trade Portal and the insights it provides can be used to help mitigate risks and unlock new trading opportunities.
There will also be an opportunity to network with business across the Leeds and West Yorkshire area.
Speakers
Sam Baldwin – Associate Director, Proposition Development, Lloyds Banking GroupSam manages the Lloyds Bank and Bank of Scotland International Trade Portals and works closely with our partners to continually improve the service which is offered to users. He has been with Lloyds Banking Group of 6 years in a range of roles across the commercial bank primarily focussing on supporting SME businesses, having previously been a Relationship Manager for the bank in the West Yorkshire area.
David Weatherhead – Head of SME and Mid-Corporate Trade Sales, Lloyds Banking Group
John Pearce – TBC - CEO, Made in Britain
Steve Harris - TBC - Regional Director of SME, Lloyds Banking Group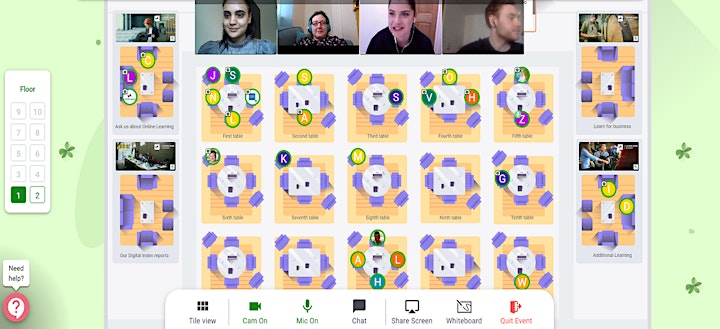 We will bring to your computer, interesting, informed and relevant industry leaders delivering keynote presentations to provide you with the opportunity to learn from their vast experience. We want to give you, as a small business leader, a moment to think and reflect on your approach and a chance to share and converse with your peers.
You can sit around virtual tables of 6 to talk over videos to learn from each other or network. Easily move from table and the click of the mouse or double tap.
Previous Lloyds Bank Academy attendees have said:
"This was my first experience of virtual networking and it worked brilliantly. The table layout made this feel very natural."
"Loved the tables for networking and the ability to remain interactive whilst the actual talk was happening was great! "
"Best online event I have attended in terms of speakers, hosting and platform"
-------------------------------------------------------
Organiser of Discover new business opportunities through the Lloyds Bank Trade Portal