Multiple Dates
Discover Personal Peace - 10 week Peace Education Program - FREE
About this Event
DISCOVER PERSONAL PEACE AND YOUR INNER RESOURCES FOR LIVING EVERY TUESDAY, STARTING TUESDAY 3RD MARCH FROM 7.30pm-8.30pm AT THE DAPHNE DU MAURIER SEMINAR ROOM N, PENRYN TREMOUGH) CAMPUS.
This is a FREE 10 week innovative, self-awareness program developed by The Prem Rawat Foundation (TPRF). The course enables you to discover your own innate tools for living. Each week you will be shown a different video on subjects such as Hope, Clarity, Inner Strength, Choice and the possibility of personal peace. Time is provided afterwards for reflection and/or expression. The Peace Education Program is non-religious and non-sectarian, and is a powerful and effective way to awaken an individual's personal understanding of themselves and of life.
Prem Rawat has said, "It is not the world that needs peace, it is people. When people in the world are at peace within, the world will be at peace".
Some of the benefits experienced by participants include:
- Developing a sense of worth
- Realising the choices each person has in life
- Finding the ability to feel contentment regardless of changes in circumstances
- Becoming more hopeful about life
- Creating a positive impact on one's relationships with others
- Developing social skills
Participants have made the following comments:
"Before I started I had no peace. I learned peace is inside"
"It is not based on any religious foundation. Anyone, regardless of status, race, creed, etc can embark on this journey. There is one instructor - Prem Rawat - allows you to come to your own understanding."
"I learned to discover my inner-self. I realised what the purpose of life is".
PLEASE SEE MAP WITH CAR PARKING INFORMATION LAST IMAGE BELOW (CAR PARK C, FIRST ON RIGHT AFTER BARRIER)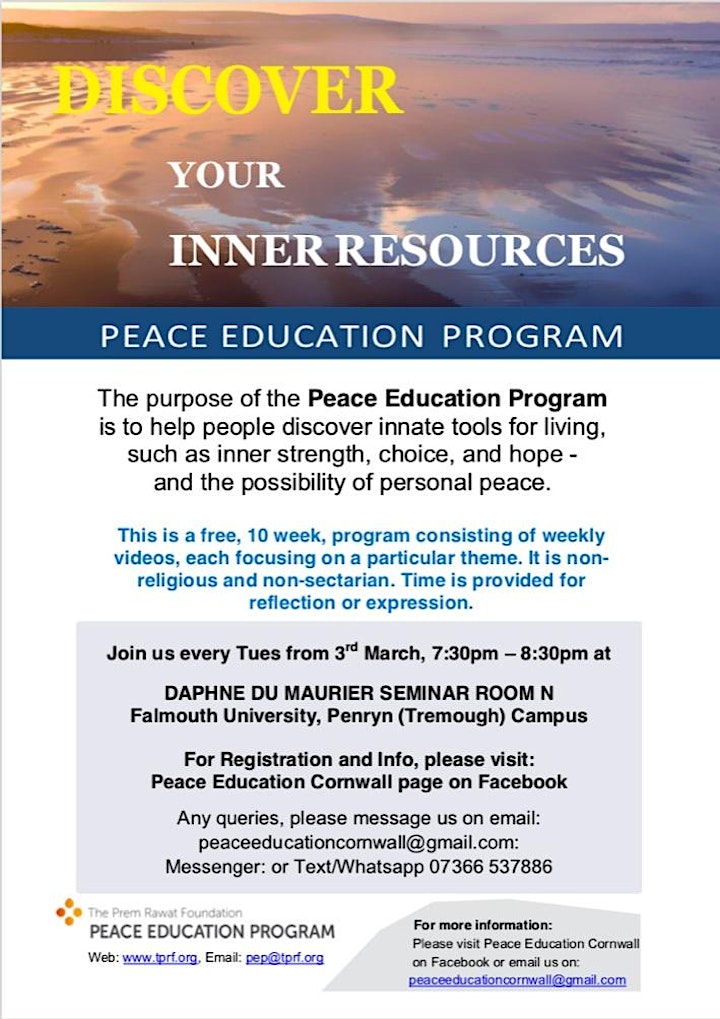 An Introduction to the Peace Education Program
Message us on Facebook: Peace Education Cornwall page
Email: peaceeducationcornwall@gmail.com
Whatsapp/text 07366 537886