Description
Discover Ramadan brought to you by Muslims in Rail, Network Rail Multi-Faith Network and Milton Keynes Muslims Association. 
Ramadan represents one of the widest celebrated religious traditions in the world. As one of the "five pillars" of Islam, Ramadan corresponds to the ninth month of the Islamic lunar calendar during which Muslims fast.
Literally, Ramadan means self-refraining: It involves not only abstinence from eating, drinking, sexual intercourse during the daylight hours, but also a high control level of one's thoughts, attitudes, and behaviours. In order to develop a closer relationship with Allah, strengthen ties with siblings, parents, friends, and restrain from touching, listening, saying, or looking at unlawful things, or going to evil places.
Fasting is compulsory on any sane Muslim who has attained puberty.
Please join us for an evening of educaiton, understanding and inspiration. If you have questions on the event or what to expect, Just ASK.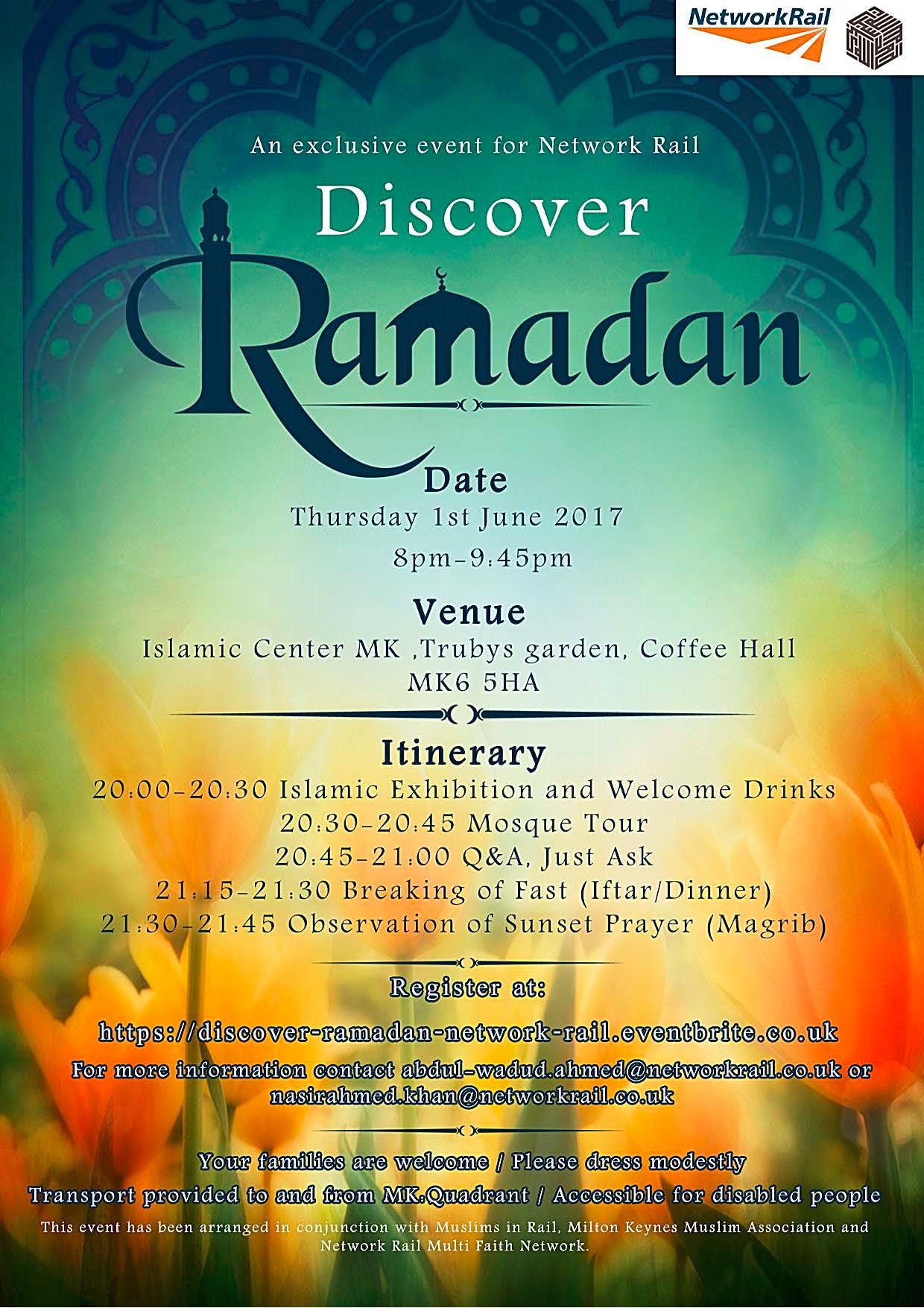 FAQs
What are my transport/parking options for getting to and from the event?
Plenty of parking is avilable onsite but if you need assistance with transport please request the organisers for necessary arrangements to be made.
Who can I bring to the event?
You and your families (including children) are all welcome. Please register tickets including children in order for the organisers to make necessary dinner arrangements.
How can I contact the organiser with any questions?
Nasir Khan on nasirahmed.khan@networkrail.co.uk
Abdul-Wadud Ahmed on abdul-wadud.ahmed@networkrail.co.uk
Dress Code for the event?
As part of the decorum of a centre attached to a mosque, users and visitors are kindly asked to observe the following dress code:
Users and visitors are asked to dress modestly.
Avoid see-through, revealing or low-cut clothing.
Shorts are not allowed. Skirts and dresses should reach below the knees.
Hirers are responsible for ensuring their guests/invitees are aware of and comply with this Dress Code.
Is the venue accessible for disabled and wheel chair users?
Yes
Is there a menu for dinner?
To be confirmed, but expect lots of it.
If you have specific dietary requirements please request this in advance to the organisers.