Discover ReAct Funding | Darganfyddwch Gyllid ReAct
COVID-19 and Your Business – Working Wales: Discover ReAct Funding | COVID-19 a'ch Busnes - Cymru'n Gweithio: Darganfyddwch Gyllid ReAct
About this Event
THIS SESSION WILL BE DELIVERED IN ENGLISH ONLINE. Welsh documents are available upon request.
MI FYDD Y SESIWN HON YN CAEL EI GYNNAL YN SAESNEG AR-LEIN. Mae yna ddogfennau Gymraeg ar gael os oes angen.
(Please scroll down for English)
Cymru'n Gweithio: Darganfyddwch Gyllid ReAct
A ydych wedi cael eich diswyddo? A ydych o dan fygythiad ac yn poeni am y peth? A ydych wedi bod ar ffyrlo ac yn pendroni beth sy'n eich wynebu'n ystod y misoedd nesaf?
Nid oes amheuaeth mai diswyddiad yw un o'r digwyddiadau sy'n achosi'r mwyaf o straen mewn bywyd. Gall y wybodaeth sydd ar gael fod yn llethol, gall fod yn anodd deall beth rydych yn gymwys ar ei gyfer a sut i wneud cais amdano.
Rydym wedi creu tîm gyda Cymru'n Gweithio i'ch helpu i sicrhau dealltwriaeth well o'r Cynllun Cyllido ReAct, sy'n helpu pobl sydd wedi cael eu heffeithio gan ddiswyddiad i ennill sgiliau newydd ac yn annog cyflogwyr i recriwtio gweithwyr sydd wedi cael eu diswyddo.
Beth fydd cynnwys y cwrs?
Cyflwyniad cyffredinol i'r gwasanaeth Cymru'n Gweithio a gyflwyna Gyrfa Cymru, sy'n cefnogi unrhyw un dros yr oed 16 nad ydynt mewn addysg gyda chymorth gyrfaoedd a chyflogadwyedd.
Bydd y gweithdy'n cynnwys gwybodaeth ynghylch cyllido ReAct a Chyfrifon Dysgu Personol sy'n cael eu cyflwyno ledled Cymru.
Ar gyfer pwy mae'r digwyddiad?
Unigolion sydd wedi bod ar ffyrlo
Unigolion sydd wedi cael eu diswyddo neu sydd o dan fygythiad o gael eu diswyddo
Unrhyw un dros yr oed 16 allai elwa o gymorth gyrfaoedd a chyflogadwyedd
Cefndir y Siaradwr
Emily Jones yw'r Rheolwr Ymgysylltiad Rhan-ddeiliaid ar gyfer Cymru'n Gweithio, yn Gyrfa Cymru.
Mae gan Emily dros ddeng mlynedd o brofiad o gyflwyno hyfforddiant, mentora a rhoi cyngor gyrfaoedd mewn ysgolion a cholegau. Erbyn hyn mae hi'n rheoli partneriaethau rhan-ddeiliaid ledled gogledd a chanolbarth Cymru, gan ddatblygu'r gwasanaeth Cymru'n Gweithio a gyrru ffyrdd newydd o weithio er mwyn cefnogi cwsmeriaid.
Mae Cymru'n Gweithio yn wasanaeth a ddarperir gan Gyrfa Cymru, sydd yn cael ei ariannu gan Lywodraeth Cymru a Chronfa Gymdeithasol Ewrop.
__________________________________________________________________________
Working Wales: Discover ReAct Funding
Have you been made redundant? Are you at risk and worried about it? Have you been on furlough and wondering what the next few months will entail?
There's no doubt redundancy is one of life's most stressful events. The information available can be overwhelming, hard to understand what you're eligible for and how to apply for it.
We've teamed up with Working Wales to help you better understand the ReAct Funding Scheme, which helps people affected by redundancy gain new skills and encourages employers to recruit a redundant worker.
What will the event cover?
A general introduction to the Working Wales service delivered by Careers Wales, which supports anyone over the age of 16 and not in education with careers and employability support.
The workshop will include information on the ReAct redundancy funding and Personal Learning Accounts being rolled out across Wales.
Who is this workshop for?
Those who have been on furlough
Individuals who have been made redundant or are at risk of redundancy
Anyone aged 16+ who may benefit from careers and employability information and support
About the Speaker
Emily Jones is the Stakeholder Engagement Manager for Working Wales, at Careers Wales.
Emily has over ten years' experience in delivering training, mentoring and careers advice in schools and colleges. She now manages stakeholder partnerships across North & Mid Wales, developing the Working Wales service and driving forward new ways of working to support customers.
Working Wales is delivered by Careers Wales and funded by the Welsh Government and the European Social Fund.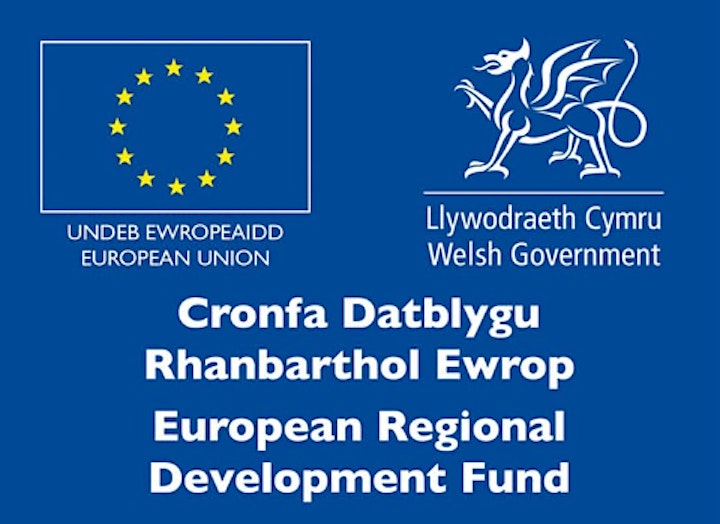 Mae Hybiau Menter Ffocws yn darparu gofod arloesol i ddeori a sbarduno busnesau newydd a'r rhai sy'n ehangu. Mae Hwb Menter Ffocws y Drenewydd a Hwb Menter Ffocws Caerfyrddin yn cael eu hariannu'n rhannol gan Gronfa Datblygu Rhanbarthol Ewrop trwy Lywodraeth Cymru
Mae'r digwyddiadau a ddarperir neu a gynhelir gan raglen Hybiau Menter Ffocws Llywodraeth Cymru am ddim ac yn agored i bobl o bob oedran, ond rhaid archebu lle ymlaen llaw. Mae'r niferoedd yn brin a disgwyliwn alw mawr am lefydd, felly archebwch yn gynnar i ddiogelu'ch lle.
Focus Enterprise Hubs are an innovative space to incubate and accelerate new, and growing businesses. Focus Newtown and Focus Carmarthen Enterprise Hubs are part funded by the European Regional Development Fund through the Welsh Government
Events delivered or hosted by the Focus Enterprise Hubs programme for the Welsh Government are free and open to all ages but must be booked in advance. Please be advised that numbers are limited and we expect high demand for places, so book early to secure your place.