Location
Beetham Tower
301 Deansgate
City Centre
Manchester
M3 4LQ
United Kingdom
Refund policy
Contact the organiser to request a refund.
Eventbrite's fee is nonrefundable.
Description
Next tour: Sunday 9 February 2020
Meet: Entrance, Beetham Tower, Deansgate, 12 noon.
Cost: Eleven obols.

They came. They saw. They conquered the Setanti and Brigante tribes and imposed their despotic rule on the local area. They were the Romans and the year was AD79.
No one invited them in.
They just took over the place. But at least they brought us the clever notion of reading and writing, a new religion (worship of the God Mithras), straight roads and lasagne. They built four forts in what is now Castlefield over the next four hundred years or so, and then just left without so much as an arriverderci.
Two thousand or so years later little of Roman Manchester remains – above ground. There is one lump of stone, which after being hidden away for around a hundred years is now accesible! There is plenty below ground, as successive excavations over the last few centuries have unearthed, stories which we shall unravel as we visit the archaeological sites around Deansgate and Liverpool Road. And we have them to thank for changing the name of the area from Maenwicken.

Then we fast forward nearly two thousand years to modern industriall canal-rich Castlefield. What a place!
Ed Glinert dons his toga.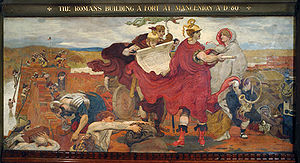 The only block of remaining wall in Manchester. Will we find it on our tour?