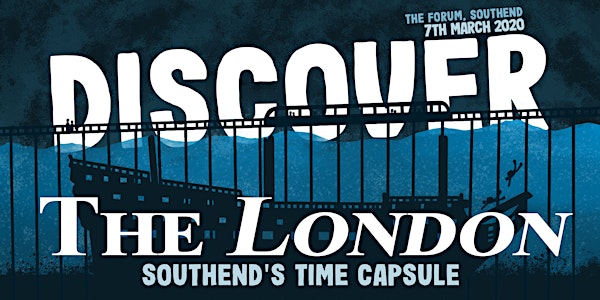 Discover the London - Southend's Time Capsule
Location
The Forum Southend-on-Sea
Elmer Avenue
Southend-on-Sea
SS1 1NE
United Kingdom
A day dedicated to the amazing historic shipwreck of The London; including a host of fascinating talks and interactive activities.
About this event
Discover one of the most historically significant shipwrecks since the Mary Rose
The Nautical Archaeology Society and the London Shipwreck Trust, with the support of Historic England, Southend Museums and Southend-on-Sea Borough Council are proud to present:
Discover the London - Southend's Time Capsule
#DiscoverTheLondon @SaveTheLondon
A day of interesting talks and family friendly interactive activities linked to the amazing historic shipwreck of The London.
Discover the hidden gem of Southend and uncover the fascinating history of the ship straight from the archaeologists and historians who are studying her.
Venue: The Forum, Elmer Square, Elmer Ave, Southend-on-Sea, Essex, SS1 1NE
Map of venue location, parking and public transport is at the bottom of this page
7th March 2020 - from 10.00 until 17.00
On the 7th March 1665
The London was fully laden with supplies in preparation to embark for battle in the Second Anglo-Dutch War, and as families climbed aboard and waved goodbye to their loved ones, she suddenly, and tragically, exploded. Today, over 350 years later, she lies sunk on the edge of the Thames Estuary, and on the 7th of March 2020 we'll be celebrating her story, and inviting the people of Southend to get hands-on with their history and heritage.
Talk Timetable:
10.15 – 12.00 - Morning Session - The History, Chaired by Southend Museum
10.30 - 'Called to several employments' - a brief look at the career and significance of Oliver Cromwell – John Goldsmith, The Cromwell Association
11.00 - The Building of the London – Richard Endsor, Historian & Author
11.30 - Samuel Pepys and the loss of the London – J D Davies, Historian & Author
14.00 – 15:30 - Afternoon Session - The Archaeology, Chaired by Phil Harding, Archaeologist & Presenter, NAS President, Save The London Ambassador.
14.00 - Diving the wreck of the London – Steve Ellis, London Shipwreck Trust
14.30 - Recent Historic England funded activity on the London – Hefin Meara, Historic England
15.00 – The future of the London – Mark Beattie-Edwards, Nautical Archaeology Society
Whilst entrance to the event is free, we are requesting a minimum of £1.00 donation for each of the talks being given during the day.
Whilst donations can be made on the day, we do recommend (to avoid disappointment) that visitors book the talks in advance via Eventbrite - the online payment donation per talk is £1.00 (plus a £0.67 booking fee) all of which will help the efforts to #SaveTheLondon