Refund policy
Contact the organiser to request a refund.
Eventbrite's fee is nonrefundable.
A range of business skills workshops designed to work with the unique individual you are to embrace the business person you want to be.
About this event
For full details of the whole course check out the following video
How often do you find yourself worrying that people won't take you and your business seriously?
Well, here's some news that might surprise you. That anxiety is draining your most valuable business resource.
You are just the right person to run your business, how do I know this? Because you are already doing it.
Your business is failing to thrive because you are trying to do business the way that suits someone else.  In the same way that wearing someone else's shoes quickly becomes unbearable, running your business someone else's way is futile, exhausting and demoralising.
It may feel comfortable at first but, eventually your paths diverge and, suddenly, you are cut adrift. With no safety net to carry you forward, motivation wanes and, slowly things grind to a halt.
There is another, easier, way....
Authenticity is paramount. Now is the perfect time to find your authentic voice and speak clearly and confidently from your business heart.
Doing business your way is exactly the right way.  There is no manual, no right or wrong, everything is open to interpretation.
The only constant in your business is you.
Stop trying the be someone else and experience the relief of doing your business, your way.
So, who are you?
Think back to when you started your business. With courage, hope and enthusiasm, you launched your dream. Soon you realised you needed some other skills, so you looked to other people for guidance and they showed you their way. But their way didn't always work for you, so you convinced yourself you couldn't do those bits.
You decided it was something about you that meant you could never do that for your business.
Have you ever found yourself thinking....
'Negotiation is not for me, I don't like confrontation'
'I would delegate but I know I'd only end up re-doing the job again myself'
'What if someone said No?'
'I'd love to run a workshop but I've no idea where to start'
or even, 'I tried doing that once and it didn't work'
Together we will create a way for you to stop questioning your own capability, tap into your unique resources and take your business to the next level (and beyond).
I believe in you. It's time you started believing in you too
Think of yourself as a million piece jigsaw, all the pieces represent your individual preferences, all those unique bits that make you, you. Of course someone else's way doesn't suit you - that's their individual way, not yours. Business is not a one size fits all solution.
The most successful businesses are run by people who are extremely self-aware. Self-awareness means taking time out regularly to reflect on three main factors:
The tools, skills, talents and experience you have
The things you want to achieve
What's missing from/blocking your path
Often the biggest obstacle is lack of choice and understanding about how you could mix things up and do it your way.
Myth buster moment
There are as many ways to do business (and all that entails) as there are people on the planet. What's missing is a choice of tools and the understanding to use them, so that you can choose the exact way that suits you.
Your most powerful strength IS your individuality. It's time you embraced that and gave yourself permission to discover and celebrate your unique business self.

Who are you?
What are your talents & skills?
How do you like to do things?
How do you prefer to see things done?
What is your communications style?
Do you have a leadership style? If so, what is it?
Understanding all these aspects of who you are will equip you to embrace your unique business personality and embody it, making everything easier, especially within your business.
No more compromise. No more avoiding situations because you just don't know what to do, how to be or, even, because they scare you.
One of the most profound joys of running your own business is the opportunity to do things your way and attracting the type of people you want to do business with, every day.
Once you have discovered who you are you will find it easier to work with
clients
customers
collaborators
contractors
You will have a greater understanding of the dynamic between yourself and others and how you can utilise that understanding to get the best out of every situation.
Does every business decision come with a huge side order of anxiety and doubt?
If you are sick and tired of putting tasks off because you have no idea where to start or what to do, join us and learn about the obstacles that block your way and how to break through them, forever.
Discover your business self is the CORE module - all participants attend this session before progressing on to further learning.
There are discounts on further modules when purchased at the same time as your Discover your business self session, the more you book the more you save.
Check out the following short video for participant feedback on the core module.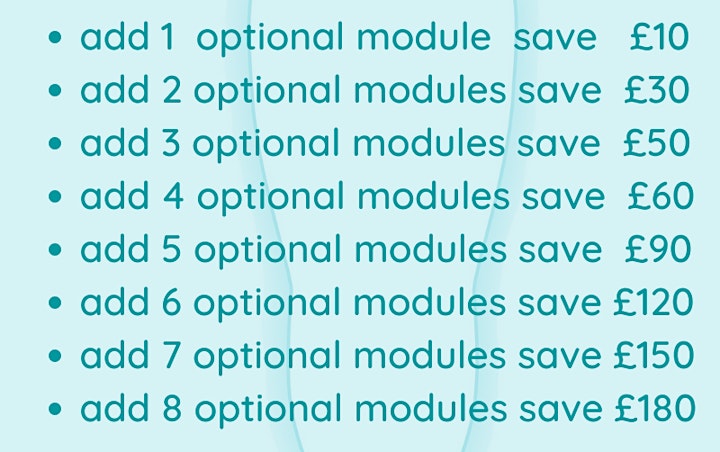 All modules run throughout the year - please ensure that all optional modules chosen are for the dates AFTER your core session.
Optional modules can be taken in any order.
Tickets are valid for 12 months from date of purchase so, if the current dates don't quite fit, select that option and you will be updated with new dates a soon as they are released.

Negotiation is an essential business skill. It creates clarity, saves time and resource (including money) and ensures everyone gets what they need from a situation.
Do you actively avoid negotiation because you don't like confrontation?
What if it didn't have to be that way?
Negotiation is a skill that is easily learned and, with a little practice, successfully mastered, and you can master it too.
Learn how to have constructive conversations that lead to mutually acceptable outcomes
Building on the discoveries from your core session, together we will identify and hone your unique negotiation style.
If you are ready to release all the stress of 'negotiation' and enjoy more constructive conversations that save you time and money, this module is for you.

Overwhelm feels like drowning under the weight of responsibility, and it can stop you in your tracks. It can be physical or emotional and is often a messy mix of the two, leaving us feeling exhausted and vulnerable.
In this workshop we will build on the discoveries from your core session, together we will help you
identify what triggers your feelings of overwhelm
Spot your own overwhelm signs and signals before it's too late
Prevent yourself from becoming overwhelmed
Learn how to get out of unexpected overwhelm
If you feel that you easily get dragged into the undertow then this is the workshop for you.
Feel relaxed, calm and in control, everyday.

Is your business at that awkward stage where you could sometimes use an extra pair of hands but the hassle of getting someone in means you just end up working longer hours to try and get more done?
Have you tried delegating tasks before and find you have to go back afterwards and do it right?
Delegation is a skill that is as unique to you as your fingerprint - learning your style will open doors you could only dream of.
Together we will build on your learning from your core module and identify your unique delegation style.
You'll learn how to:
identify what tasks to delegate
Delegate successfully
Grow your business is a safe and measured way
Set yourself free
If you have decided that bringing other people into your business is too much of a headache then this is the workshop for you.

We communicate all the time. Everything we say and do says something to someone.
In business we need to ensure that everything we communicate is on brand and, sometimes, that can be our downfall.
Following on from your core session you will know much more about yourself, this workshop enables you to take that learning to the next level to ensure that everything you share hits the right note with your customers.
You'll learn to
Communicate from the heart
Find and use your authentic voice
Communicate easily with everyone
Get your message heard
If you feel you are compromising yourself in your communications and every interaction feels like too much hard work, join us and learn how to make your communication flow.

Every day your business will demand something new from you.
From new social media posts to innovative solutions, being inspired can feel like a 24/7 drag.
Learn how to ignite your inspiration so that you can access it whenever you need.
Extending your discoveries from your core session we will explore:
Your unique inspiration igniters
Tool and techniques to get your creativity flowing
Super solutions to the inspiration doldrums
You'll leave brimming with ideas and ready to go.

Does your get up and go sometimes just get up and leave?
If you find you are full of ideas and plans but lack the enthusiasm to make thing happen, then this workshops is for you.
Building on your discoveries from your core session, together we will take a dive into what make you tick.
You'll learn that your motivation is as individual as you are, where it lives and how to keep it firing.
Explore tips and techniques to kick start your motivation on demand
Identify what you need and when
Find out it falters and where it goes
Learn how to get back on track and stay there
Leave with a new spring in your step.

When who we are is what we do, every 'no' can feel like a knife to the heart.
Understand what fires your unique rejection trigger and what to do about it.
Extending the discoveries from your core module, together we will explore:
What rejection is (and what it isn't)
How you experience it and why
Supporting yourself through rejection
How to stop it happening
You will leave feeling confident and ready to open conversations that help you and your business thrive and grow.

Would you like to run workshops, training sessions or events and have no idea where to start?
You are a capable and courageous individual, building on the learning from your core session, together we will identify your individual workshop style and begin the plan to bring those dreams to life.
Let's get this journey started. You will leave with much greater clarity around:
The 'who, what, when, where & how' of workshops
Your unique workshop style
How to calm the inner voice of doubt
What really gets in your way and what to do about it
You'll leave feeling confident to share your wisdom with the world.
(This optional module opens your door to 1:1 workshop mentoring and further workshop skills sessions - details available upon request.)