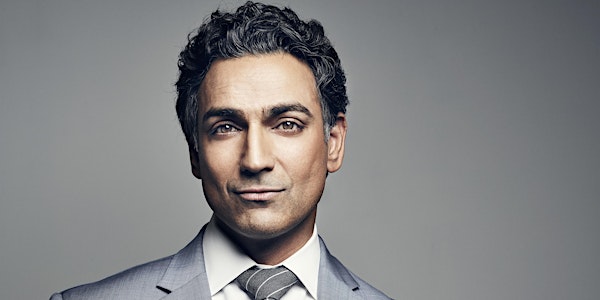 Discover your mind's true potential: A masterclass with Dr Rahul Jandial
Learn about your mind's boundless potential at this virtual evening masterclass with award-winning neurobiologist Dr Rahul Jandial.
About this event
The complexity of our minds should not be a barrier to our understanding of them. Rather, by learning about our brain, mind and behaviour we can begin to develop a lifelong relationship with ourselves, which enables our resilience to strengthen and our confidence to grow. And when it comes to a life-changing event or a traumatic experience, these tools can prove invaluable.
In this workshop with award-winning neurosurgeon and neurobiologist Dr Rahul Jandial, you will discover how you can harness the potential and power of your brain to begin the first steps towards overcoming personal and collective trauma caused by the pandemic.
Through science and stories, as well as reflections on his own journey, Rahul will help you to see yourself in a new light – and harness the changes that are in your power. By showing you the design of our brains at anatomical and cellular levels, you will begin to understand the personalised approach you can take during challenging times to cope – and even to thrive.
Course Content
A new approach to managing trauma and its aftermath
Your best approach to crisis management and performing under pressure
How to navigate unavoidable threats and stress
A new understanding of grief and its importance in healing
The biological roots of emotional regulation
This course is for ...
Anyone interested in learning more about their brain's potential
Anyone looking for new approaches to building resilience, performing under pressure and managing stress
Anyone who wants the opportunity to learn from an award-winning neurosurgeon
Tutor Profile
Dr. Rahul Jandial MD, PhD is a dual-trained neurosurgeon and neurobiologist. He is known for undertaking complex cancer operations and overseeing cutting edge science at the Jandial Lab in Los Angeles. Through his non-profit, International Neurosurgical Children's Association (INCA), he travels the world performing and teaching pediatric brain surgery in underserved hospitals in Central and South America, Southeast Asia and Eastern Europe. Many first came to know him from his columns for Vice, appearances on American news shows, and international channels Discovery, and National Geographic, amongst others. His first book, Life Lessons from a Brain Surgeon, became a Sunday Times bestseller. is latest book, Life on a Knife's Edge: A brain surgeon's reflections on life, loss and survival is an international bestseller translated to 8 languages.
Course Details
Date: Wednesday 19 October 2022
Time: 6.30pm-9pm (GMT)
6.30pm BST | 7.30pm CET | 10.30am PDT | 1pm EDT
This masterclass is available globally. If you are joining us from outside the United Kingdom, please use this time zone converter to check your local live streaming time.
You will be sent a link to the webinar two hours before the start time. Please email masterclasses@theguardian.com if you have not received the access link within one hour of the scheduled start time.
All Guardian Masterclasses are fully accessible but please contact us at masterclasses@theguardian.com if you have any queries or concerns.
Full course and returns information on the Masterclasses website