Description
Have you ever wondered how awesome you could be if you knew what your super-strengths were? Or how it would feel to know that all the decisions you make are the right ones, for the right reasons?
How would it feel to be truly effective? - To know your innate personality strengths and how to use them to their maximum potential?
What about if you share this knowledge with your clients - how powerful would that be?
Just to make sure we're talking the same language here, we're talking of strengths such as Leadership, Critical Thinking, Courage, Enthusiasm, Collaboration and Flexibility to name just a few.
We're all born with strengths. Some we use every day, others can lay dormant until we have need of them while others may be stashed away, having never been used, just waiting for someone to help bring them to life.

This mini-workshop gives you an overview and an insight into what your true strengths could be, how you could use them to be your very best self, what to do if your strengths go into overdrive as well as how you can counterbalance that aren't so strong.
This new concept is sweeping the UK. A Strengths-based approach turning the old ways of doing things on its head, no more focusing on what you don't yet know, or don't do well. This approach focuses on what you already have and supercharges it to have a much greater impact than focusing on your weaknesses will ever have.
It helps you discover your potential strengths by using tools provided by Strengthscope®, a comprehensive and innovative cloud-based strengths profiling system to energise peak performance.
Strengthscope® is transforming the lives of individuals, teams and leaders in organisations all over the world. This unique strengths-based psychometric profiling:
Enables self-awareness, so you can discover what really makes you tick
Builds a culture of inclusion where you can truly be yourself

Empowers you to truly connect with others with authenticity, honesty and clarity.
How? It's all in the wheel (like the one shown below). Your unique fingerprint. The wheel that's giving people their lightbulb moments. The wheel that shows you your unique strengths (i.e. your true motivators at work and in life), the top 7 of which are that unique, that the chances of getting the same Top 7 in the same order as anyone else is 1 in 1.3 billion.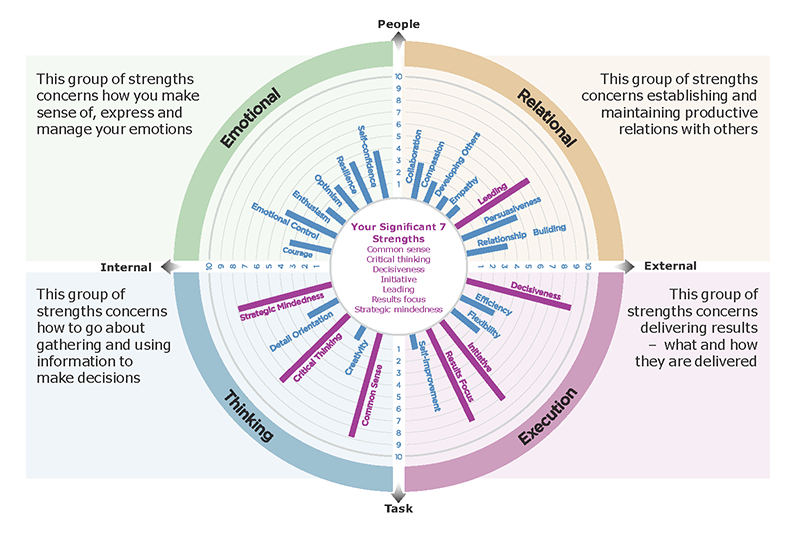 This workshop is aimed at individuals, business owners, managers, coaches and consultants and will help you discover your own strengths as well as how understanding others strengths can result in peak performance.
See you there!