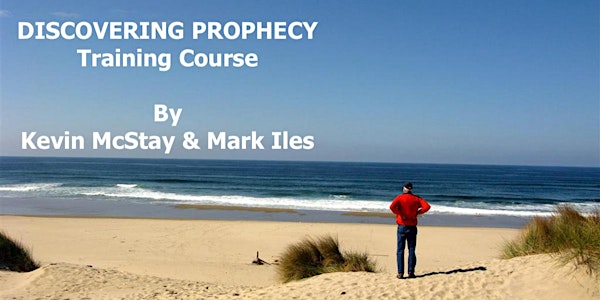 DISCOVERING PROPHECY – Online Prophecy Training Course [2021-22]
Refund policy
Refunds up to 7 days before event
Eventbrite's fee is nonrefundable.
Discovering Prophecy is a new training course, covering all aspects of the biblical gift of prophecy, hosted by the School for Prophecy.
About this event
The School for Prophecy is hosting a new training course written by Kevin McStay and Mark Iles, called Discovering Prophecy. It starts on Monday 4th October 2021 [Note 1], using Zoom online video conferencing. It will run for nine monthly Monday evenings, from 7.45 pm to 9.45 pm [London, GMT], over ten months from October 2021 to July 2022. Registration costs £10.00 per meeting, which includes the Eventbrite service fee. Alternatively, there is the opportunity to purchase a complete training course pass, including a £10.00 discount and free video recordings of any teaching sessions you miss. Concessions are available for financial hardship [Note 2] and same household screen sharing [Note 3] on request. If you would prefer to register & pay by Bank Transfer, please contact the office by email. [See also Growing in Prophetic Ministry level two training course by the School for Prophecy]
The Discovering Prophecy training course will help you better understand the biblical gift of prophecy, hear more clearly from Father for yourself and others and equip you to give and receive prophetic words using biblical principles. The training course lays biblical foundations for prophecy's proper use, dispels its more common myths, misnomers, and misunderstandings, and reveals its full potential as a potent Body ministry.
The Discovering Prophecy course is suitable for those with limited experience and those already moving in the gift because it explains the fundamental biblical principles and establishes foundational biblical practices that will increase your understanding, operation, and experience of the gift.
It provides clear, candid, and comprehensive teaching on all aspects of the biblical gift of prophecy, a comfortable and safe environment for you to practice and experienced advice on hand to help you grow in the gift. This course comprises nine sessions covering the following subjects:
What is Prophecy
Battle of the Mind
How to Hear God
Seeing in the Spirit
New Covenant Prophecy
Preparing to Prophecy
Language of God
Testing Prophecy
Receiving, Discharging, & Responding
Every meeting will include a teaching session with an on-screen presentation, an activation workshop, a small group session, discussion opportunities, and the all-important questions & answers session. Student-style presentation notes will be provided for all the teaching sessions and video recordings of the teaching sessions will also be available to purchase and download.
After registering you will be sent a Course Information Pack, including confirmation of your registration, the complete course meeting diary, a Zoom proficiency briefing and our Zoom House Rules.
For further information please contact the course leaders below.
Course Leaders
Kevin McStay is a recognised national prophetic voice and member of Carlisle Vineyard church. [kcmcstay@gmail.com]
Mark Iles is the founder of the School for Prophecy and a member of Winchester Vineyard church. [schoolforprophecy@gmail.com]
School for Prophecy, Southampton, UK
Enquiries: Please contact one of the course leaders above, or ring the school office on 07940 483478.
[1] The first three meetings are on 04 October 2021, 01 November 2021, and 29 November 2021.
[2] We offer a 50% attendance concession for those who are unemployed, in full-time education or reliant on benefits. We do ask that you contact your church leadership first, to see if they will support you financially, given the small cost involved. However, if not, please apply to the organizers by email.
[3] We also offer a 50% attendance discount for the second person in the same household sharing a screen, if the first person has paid full price. Please email the organizers for the shared screen promo code after you have purchased a full-price ticket.