About this Event
The Queen Elizabeth Scholarship Trust (QEST) is a charity dedicated to supporting excellence in British craftsmanship through scholarship and apprenticeship funding for talented and aspiring craftspeople.
QEST's Scholarship and Apprenticeship programmes support makers working in the UK to further their practices through developing and sustaining vital craft skills in traditional and contemporary crafts. The next round of applications to the funding programmes is open 14 July - 24 August 2020.
In advance, Applied Arts Scotland are delighted to welcome QEST's CEO Deborah Pocock LVO to an online event for Scottish makers, craftspeople and designer makers to introduce the two programmes and answer questions you may have about making an application to further their practices.
Deborah will be joined by Glasgow-based designer / maker of hand folded lighting and homewares Kate Colin, a 2019 QEST Scholar - Paperfolding. Kate will share an insight into her self directed programme of taught courses with specialists and studies in Europe and the UK to advance her paper folding and pleating skills, and how this has impacted on her practice / business.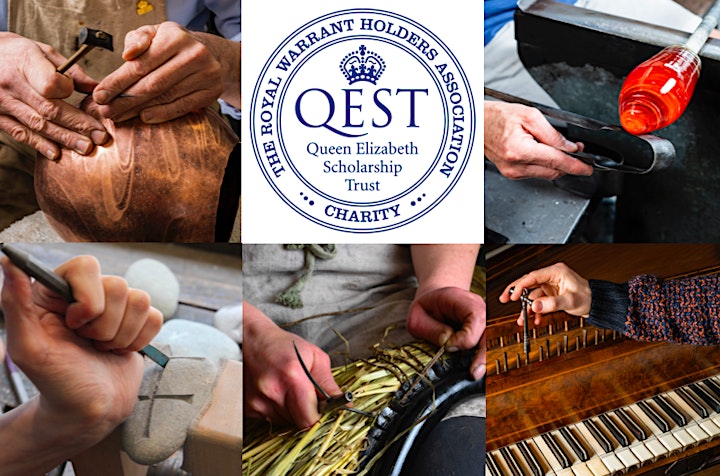 The next round of applications to the funding programmes is 14 July - 24 August 2020.
QEST Scholarship funding takes many forms, from traditional college courses to vocational one-to-one training with a master craftsperson, or a series of self-directed short courses. Education and training grants of up to £18,000 are available to support advanced skill development in craftspeople who aim to become masters of their craft.
QEST Apprenticeships offer salary support of up to £6,000 per year towards an apprentice's salary for craftspeople who have secured an apprenticeship to train with a master craftsperson for up to three years.
Featured image: Kate Colin at work in her studio, photographer - Alaisdair Smith Photography
Composite image: QEST supports individuals working in a broad range of crafts