Discussion marking 25 years of Lithuania's membership of the United Nations
Description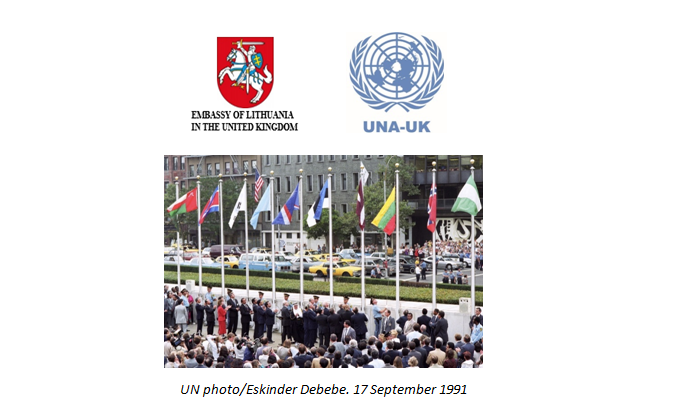 You are cordially invited to a discussion marking 25 years of Lithuania's membership of the United Nations, which will take place at the Embassy of Lithuania on Thursday, 27 October 2016.
Having restored its independence from the Soviet Union on 11 March 1990, Lithuania joined the family of the United Nations on 17 September 1991. Lithuania sees the UN as the center of collective security and international law, and actively supports organization's role in promoting international peace, social progress, better living standards and human rights, as well as developing friendly relations among nations.
Since joining the UN Lithuania has been actively engaged in the activities of the United Nations and its agencies. The Security Council membership in 2014-2015 provided Lithuania with an opportunity to operate an active foreign policy, contribute to the solution of international peace and security issues, strengthen international authority and establish Lithuania as a visible and influential state in the region.
The discussion on Lithuania's 25-years' membership in the United Nations is organized by the Embassy of Lithuania and United Nations Association–UK (UNA-UK) in cooperation with British-Lithuanian Society. We are grateful for the support ofBaroness Anelay, Minister of State at the Foreign and Commonwealth Office, and Lord Hannay of Chiswick, Co-chair of the All-Party Parliamentary Group on the United Nations, who will both be speaking at the event.
The discussion will start at 5pm at the Embassy of Lithuania: 2 Bessborough Gardens, London SW1V 2JE