Our expert panel discuss the topic of sustainability within the tourism sector is Scotland - come along to join the ecotourism debate.
About this Event
On the west coast of Scotland tourism plays a huge role in the lives, jobs and economy of the local communities. People visit here for the pristine environment, the untouched wilderness, and, of course, the incredible wildlife. But what impact is the tourism sector having on these very things? We have brought together a panel of industry experts to discuss this topic. This talk couldn't be more relevant today - at a time of climate and ecological emergency, and when there is uncertainty concerning the future of tourism due to the ongoing pandemic.
Our panel will share their experiences, opinions and hopes - you are invited to come along and ask your questions, share your opinion and join the debate.
We ask..... What does 'sustainable tourism' mean? What are the unique challenges and strengths of tourism in rural Scotland? There is a lot of talk about post-covid 'build back better' - what would this look like on Scotland's west coast? What do we need to make it happen? How can tourism help conservation? How can we as individuals travel more sustainably?
This will be an engaging event with lots of opportunity for you to ask questions and share your experiences. We want our events to be as accessible as possible, so we are asking you to pay what you like. Your donations will support the charitable work of HWDT.
The Panel:
Angus Murray - Druim nan Linntean | Skye Ecomuseum Manager
Angus has been working for about ten years now on projects related to heritage and the environment throughout the west coast of Scotland taking in; Oban, Islay, the Outer Hebrides, and now based on Skye for the second time. He grew up on the Isle of Benbecula and his main interests work-wise are the wider cultural heritage of the Highlands and Islands. In his spare time Angus is a sea kayak guide and general outdoor person. If you spend time with him you'll likely get wet feet as he will march you across a bog to look at some archaeology he spotted on an old map.
Annabel Upson & Hattie Seal - Travelling Whale Directors and Co-Founders
Hattie and Annabel believe that we can all travel more sustainably — and through their company they are committed to creating positive change in the travel industry, in the collective quest to protect the planet. Travelling Whale is a travel agency that focuses on responsible and sustainable adventures by working alongside local communities, reducing CO2 emissions and promoting tourism that protects the environment and wildlife. Travelling Whale are a corporate partner of HWDT, donating 1% of their profits to support our work and are about to launch a dedicated Hebridean Whale Trail itinerary!
Carron Tobin - ruralDimensions
Carron is a freelance rural development consultant based in Callandar with an extensive portfolio of tourism projects which enable businesses and communities to work together. These include development management for Argyll and the Isles Tourism Cooperative, West Coast Waters 2020, The Coast that Shaped the World, the launch of the Hebridean Way, and the Communities Leading in Tourism 2020-21 initiative. Carron is a former executive director of Loch Lomond & the Trossachs National Park - devoting 15 years to supporting the establishment and early development of Scotland's first National Park.
Mairi Thompson - Outer Hebrides Tourism
Mairi Thomson, Tourism Development Officer for Outer Hebrides has worked for Outer Hebrides Tourism, who are the local DMO for the Western Isles, for around 10 years. OHT is supported by our 300+ membership who are made up of various tourism businesses. They also secure funding from various public agencies to undertake projects e.g. Hebridean Way. We recently launched a new Visit Outer Hebrides website which gets around 2 million hits a year and also have around 60k followers on social media.
Hosted by:
Jenny Hampson and Siobhan Moran - Hebridean Whale and Dolphin Trust
Jenny and Siobhan both have backgrounds in research and conservation. Jenny is the Visitor Experience and Exhibitions Officer for HWDT, while Siobhan is Community Engagement Officer. Together they develop and deliver a programme of events, training and media delivered from the Tobermory visitor centre, across Scotland's west coast, and through online events such as this. Siobhan was the project officer for the Hebridean Whale Trail - a network of whale watching and marine heritage sites across Scotland's west coast. The trail aims to raise awareness of cetaceans in the Hebrides, foster sustainable 'slow tourism', and support local communities and businesses.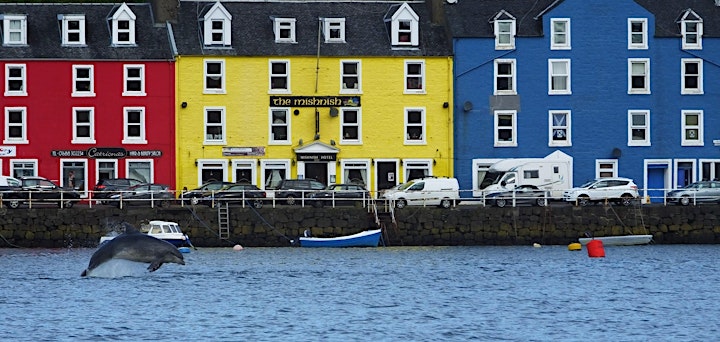 HWDT's community engagement programme is supported by the #NationalLotteryHeritageFund.