Event Information
Location
Gannochy Seminar Room, Wolfson Medical School Building, University of Glasgow
Description
Displacement in Morocco and the UK: Best practice knowledge exchange forum
Thursday 22nd June, 10.00am - 4.00pm
Gannochy Seminar Room, Wolfson Medical School Building, University of Glasgow
This knowledge exchange event, aimed at practitioners, activists and researchers working with migrants and refugees in Morocco and the UK, will be an opportunity to share lessons learned from two diverse contexts. The workshop will foster a sustainable dialogue to identify common issues and develop inclusive practices to address the challenges posed by forced displacement.
The event is organised by the Arts for Advocacy: Creative engagement with forced displacement in Morocco project incollaboration with GRAMNet. The project is funded through ESRC, AHRC and the Global Chalalenges Research Fund (GCRF).
The event is part of Refugee Festival Scotland.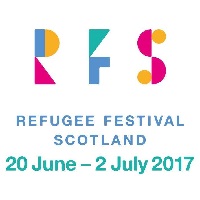 Date and Time
Location
Gannochy Seminar Room, Wolfson Medical School Building, University of Glasgow